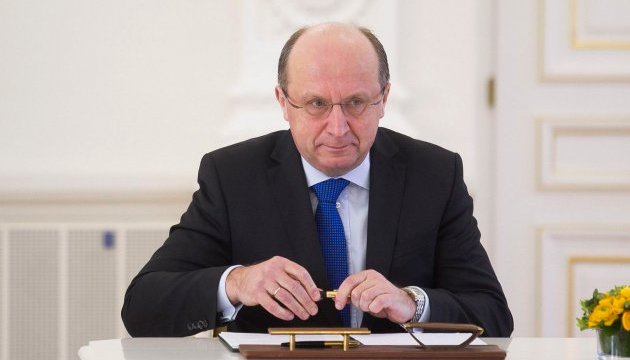 The process of negotiating Ukraine's membership to the EU was supposed to be finished this year.
Andrius Kubilius, a member of the European Parliament and the head of the global organization "Together for Ukraine," spoke at this vote during the discussion about Ukraine's chances of joining the EU on the day of the summit between the EU and Ukraine.
"I believe that the membership negotiations with Ukraine should start this year. The nation must first undergo an evaluation by the European Commission in the spring before being included in the report on EU enlargement. And before the end of the year, it ought to be clear that Ukraine should begin negotiations. It is unlikely that significant geopolitical decisions will be made in 2024 if this does not happen. The EU will experience a wave of elections when Europe joins without having favorable geopolitical prospects".
He also emphasized that the negotiation process will last 3-4 years.
"I believe that the negotiations should go on for three to four years. Such was the case for us (approximate author from Lithuania), following the quick adoption of all laws. I think the parliament will be necessary right now to talk about everything and join the EU. You must keep in mind that there is a purpose for this, since the following one will occur in 2027, followed by the EU accession of Ukraine in 2029. But even though it might appear insurmountable, it is achievable. It is important to keep in mind that all processes in Europe follow a certain degree of bureaucracy, and you can already see this in the integration of the Western Balkans,"- the MEP stated.
Kubilius noted that today there are challenges on both sides.
"In order to achieve all the requirements, Ukraine must implement its reforms. There are disadvantages that you must go through. But it will be a mistake on your behalf if the process proceeds in the same manner as the Western Balkans. It is now essential to concentrate on how to acquire political support in a broad sense in addition to considering how Ukraine is progressing toward achieving all the criteria. Because Ukraine's membership in NATO will have the best positive effects, both in terms of the security you are assured from Russia and in terms of how much more we can accomplish for the EU and its security on the European continent thanks to Ukraine. We have all seen certain challenges faced by European nations as they moved from outright denials of their supply of, say, the Leopard to a confident determination to do so. Why this choice was not made earlier was the question I had in mind. The decision to accept Ukraine to the EU may have the same effect".
"The West needs to show that it has political will as well as military Rammstein. It is now necessary to establish a specific integration Ramstein in order to strengthen Western political will and show that a defined plan is being pursued: "Why is Ukraine's integration into the EU and NATO beneficial not only to Ukraine, but why is it necessary for the European continent?"