Mission of the project
To demonstrate regional leaders' ability to develop and implement innovative ideas, thereby improving people's lives and contributing to the strengthening of democracy, effective and transparent governance, and popularization of Ukraine as a country of innovation and creativity.
Project goals
Find local leaders who have innovative solutions, IT/digital proposals, and creative ideas, connect them to a network of active "changemakers," and assist them in putting their projects into action.
What exactly is a "hackathon"?
This term was coined at the end of the 1990s (English "hackathon," which is a combination of the words "hack," which means "hacker," and "marathon) to describe meetings that bring together specialists from various fields of programming to jointly develop certain IT ideas, promote them, and contribute to their implementation. Their main goal is to encourage industry newcomers to reveal their potential and motivate them to realize their ideas.
Why is it critical to foster ideas at the local level:
It is preferable to meet people's needs by incorporating modern IT solutions into daily life;
Social innovations developed in a "vacuum" face challenges in implementation, so it is critical to stimulate them through hackathon networks and tools;
The project helps to strengthen the decentralization reform, which opens up a variety of opportunities;
Many new powers and tools for local management were granted to local self-government bodies;
The implementation of innovative local solutions provides an opportunity to best implement new powers.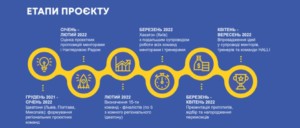 Ideas for HALLI participants in the areas of:
Improving access to services (housing and communal services, health care, social security, and so on);
Solving community/regional environmental issues;
Increasing transparency in local government activities and encouraging people to participate in local decision-making;
Increasing the region's investment attractiveness and improving business conditions;
Your choice for the development of a socially beneficial and innovative idea.
Who is likely to be interested in HALLI:
representatives of civil society and active citizens seeking qualitative changes;
representatives of small and medium-sized businesses;
scientists, students, and active youth;
employees of creative professions;
a local self-government bodies willing to support and be reliable partners for innovations.