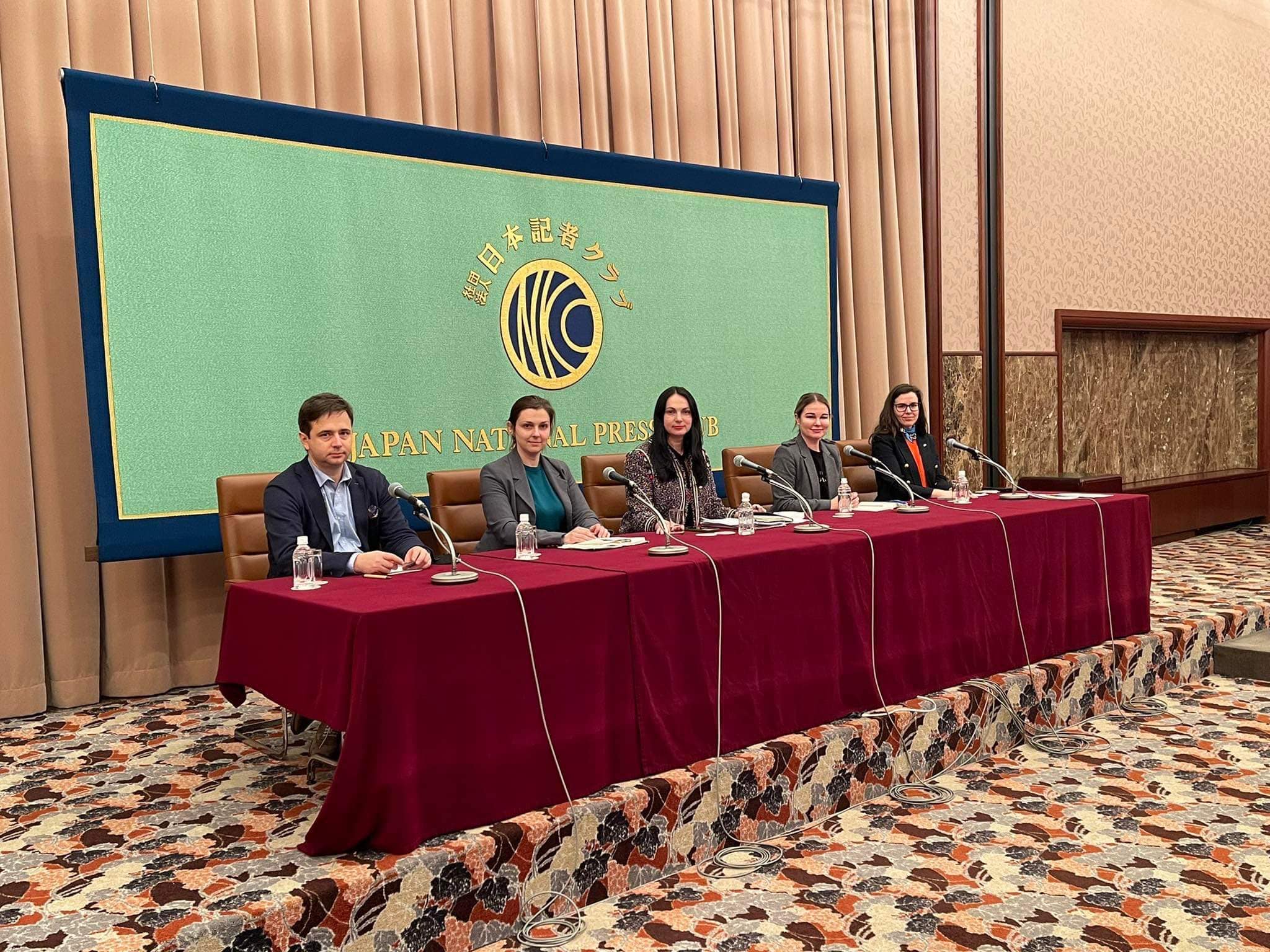 We believe that Ukraine will win the G7 presidency in 2023, during Japan's presidency. It is victory that will bring stability and serve as a deterrent to new wars.
During a press conference at the Japanese National Press Club, the head of "ANTS," co-founder of the International Center for Ukrainian Victory, emphasized this.
"We came to Japan because we sincerely believe that in 2023, during Japan's presidency of the G7, as well as when Japan becomes a non-permanent member of the UN Security Council, we will finally see the victory of Ukraine. The victory that will bring stability and serve as a deterrent to new wars. This is critical not only for the European continent, but also for the Pacific region, – according to Hanna Hopko, – in order to prevent new attacks by authoritarian regimes. This trip is extremely beneficial to the entire delegation. On behalf of Ukrainians, we would like to thank the people of Japan, as well as your government and parliament. We appreciate your assistance to Ukraine since the fall of the Soviet Union. Especially in the nearly ten years since russia invaded Ukraine in 2014. Then your country took a principled stance in support of our Ukraine's integrity and sovereignty. And we are extremely grateful that Japan has stood by us since the russian federation launched a full-fledged war".
The "ANTS" leader emphasized that the massive buildup of russian troops on the Ukrainian border in 20221-2022 was a strong signal that the russian federation was ready for a full-scale war.
"We investigated these facts. There was a massive buildup of russian troops on the Ukrainian border, estimated at 100,000-140,000 troops. It was a strong signal that Russia was prepared for a full-fledged war. We have seen an increase in the frequency of cyber security attacks aided by Russian agents. Everything was done to destabilize the country from within. It was a hybrid conflict. Russia was already planning genocide at the time. We weren't expecting him. But what they did in Mariupol, Izyum, and all the occupied cities was unprecedented, a true meat grinder. We cannot comprehend how another person could rape a child or torture a person. And these are facts that simply do not sink in".
Hopko emphasized that the Armed Forces' ability to continue counteroffensive operations today is dependent on the number of weapons, heavy artillery, fighter jets, modern tanks, and so on.
"For Ukrainians, victory means restoring territorial integrity within internationally recognized borders. The sooner we have enough weapons to continue a successful counteroffensive operation, the sooner we will be able to liberate our territories. Because we must stop the genocide, every centimeter of Ukrainian land will be liberated from russian occupation".
A few more important points from the speech:
Energy security is one of Japan's top priorities. Consider the Nord Stream 2 project: how the russian Federation attempted to expand its monopoly and then weaponized the energy industry to gain influence over EU decision-makers. As a result, I believe that we should all become independent of these resources and regimes. That is why we are requesting that the US support the EU's decision to recognize and designate russia as a state sponsor of terrorism, as well as to impose sanctions on russian nuclear agencies such as rosatom and to put an end to russian nuclear blackmail.
About Japanese technologies and the reconstruction of Ukraine
This time, we went to Hiroshima. I also went to Fukushima. We now understand how Japanese society survived the nuclear disaster. However, when we took the train from Tokyo to Hiroshima today, the entire trip took only four hours. It was a bullet train. I considered the fact that the distance between Kyiv and Simferopol is the same. And I hope that one day, such a train will be able to take me to Crimea. This is going to be the Victory Train. Because the best Japanese technologies will be used in Ukraine's reconstruction. Then we'll start focusing on large reconstruction projects, one of which will be the Victory Train to Crimea.