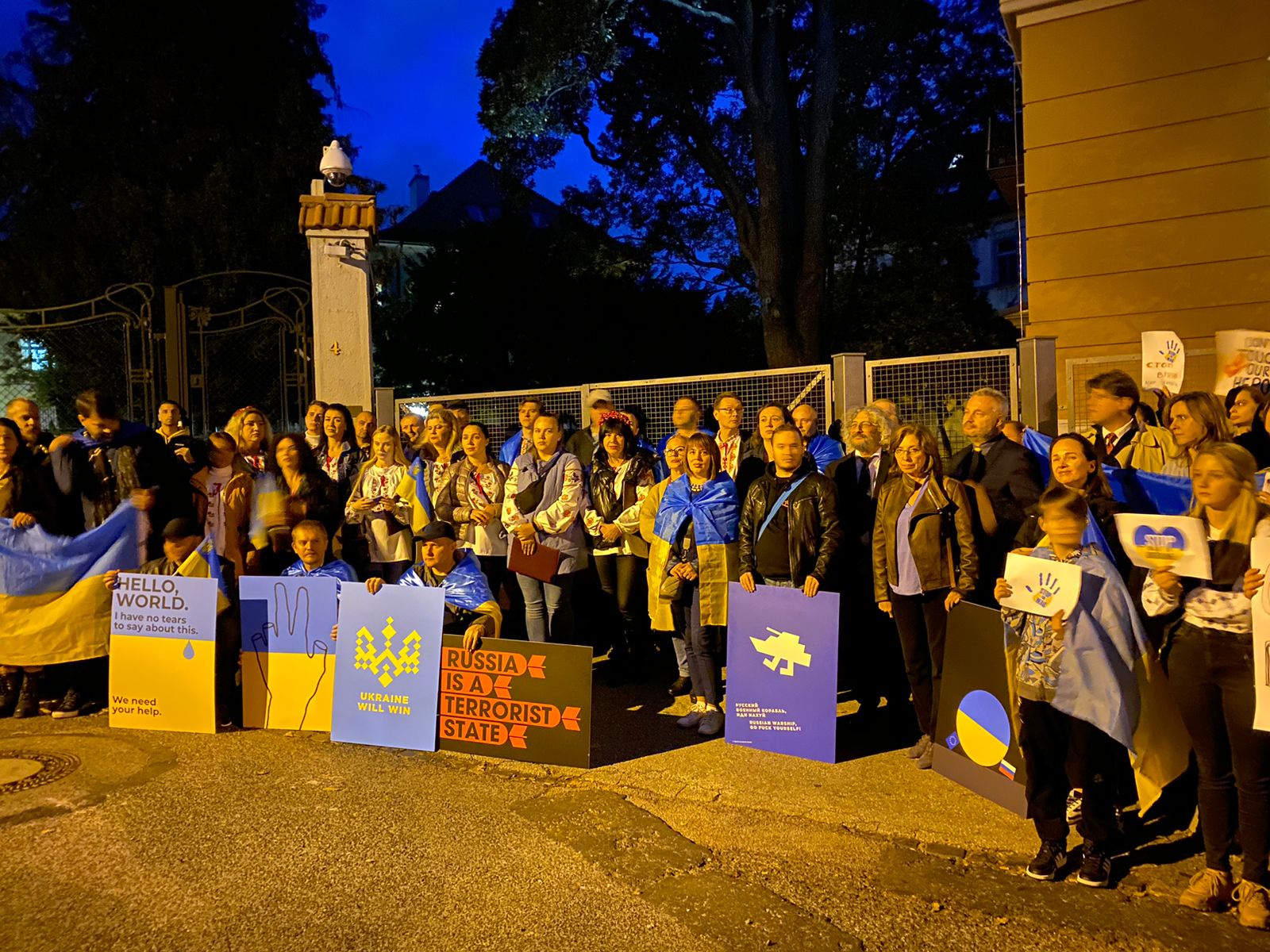 Hundreds of people went to a protest in the capital of Slovakia – Bratislava, protesting against the russian shelling of the regions of Ukraine on October 10-11.
Participants gathered near the russian embassy and demanded that the international community recognise russia as a state sponsor of terrorism and increase military support for Ukraine's Armed Forces.
"russia intends to completely destroy our air defense system, military facilities, and critical infrastructure. On October 10-11, the aggressor launched a series of pre-planned attacks on Ukrainian civilians and the energy system. The goal of these terrorist acts is to intimidate Ukrainians and create Holodomor and Holodomor in our country. Were such actions frightening? No. Ukrainians became even more united and began donating funds to the army. Donations poured in at such a rate that the banking system couldn't keep up. For example, within the first 7 minutes of the collection's announcement, UAH 1 million (approximately €27,000) was deposited into the account of one of the charitable foundations that assists Ukraine's Armed Forces. And as of 12:00 p.m. today, this account had UAH 352 million (€9.5 million). Ukraine will undoubtedly triumph. We have no other option. But how quickly it happens is dependent on your help. National Interests Advocacy Network "ANTS" member Nataliya Veselova stated during her speech. – Ukrainians are not only liberating their lands; they are also protecting their children from maniacs and war criminals. Freedom and independence are not values in russia. They easily start wars on foreign soil and use outright lies to justify their actions. They are said to be protecting the russian-speaking population in Donbas. But, personally, I am a russian-speaking Ukrainian woman who was evicted from her Donetsk apartment by russia in 2014. I haven't been home in eight years. Who did the russian army "protect" me from? From my property, my happy family life, and the chance to see my relatives? This must be immediately stopped. Otherwise, russia's victory could inspire other dictatorial regimes, putting the world's security at risk. Terrorist attacks will be our gift to you".
She emphasized that russia proves to the entire world on a daily basis that it is a terrorist state.
"And she has no right to serve as a representative in the UN or the OSCE, – she added. – The rise in retail prices and utility tariffs is the result of russia's military aggression against Ukraine. We urge the entire world to band together and assist Ukraine in defeating russia as soon as possible. Because only a quick Ukrainian victory ensures Europe's stable security and economic development".
The protest was attended by public activists, artists, representatives of Ukrainian diaspora organizations in Slovakia, temporarily displaced Ukrainians, and Slovak citizens who support Ukraine in its fight against russian aggression.