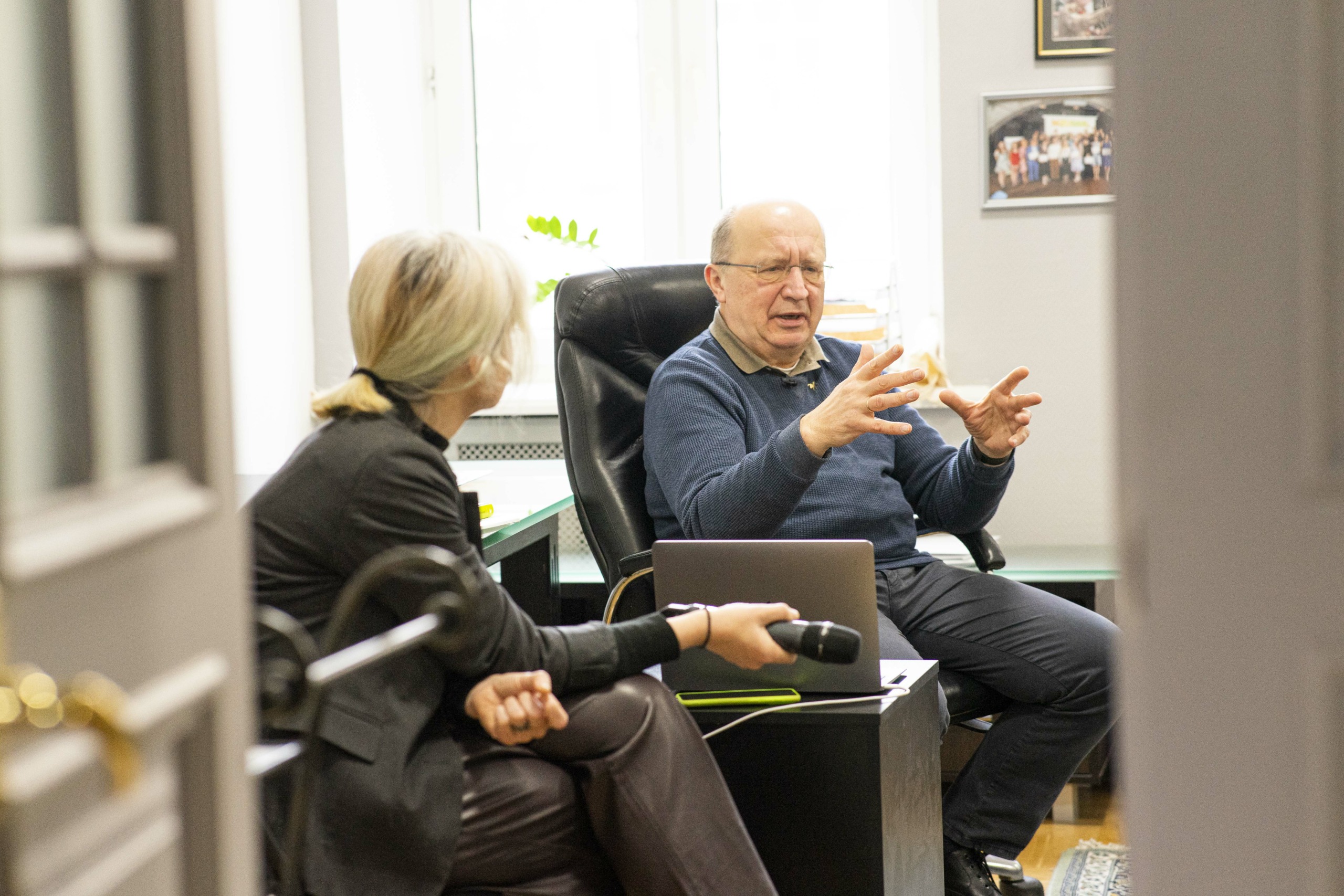 A meeting of Ukrainian youth with Andryus Kubilius, a member of the European Parliament and Prime Minister of Lithuania in 1999-2000 and 2008-2012, took place  as part of the "European Studies" project of the "ANTS" Network. Following the russian federation's full-scale invasion, he formed an informal alliance of MPs from several nations to protect Ukraine's interests in the European arena.
"I believe in Ukraine's victory, — told Andryus Kubilius at the start of the meeting. — The russian federation's war against Ukraine caused many casualties and a terrible blow to the Ukrainian economy, but at the same time, russian aggression led the European Union to adopt more substantial geopolitical steps, allowing Ukraine to obtain candidate status."
He recalled that it was the proclamation of Ukraine's determination to join the EU and NATO that worried the kremlin, not the growth of the European Union, that prompted russia to launch military strikes.
"putin was worried that if russians saw favorable improvements in their neighbors, they might destroy his administration," Kubilyus said.
The politician believes that Ukraine may attain economic progress and prosperity. According to him, the country will be able to achieve full membership as soon as new elections to the European Parliament are held in 2029.
"Lithuania took three years to negotiate its accession, whereas Poland took four. Negotiations with Lithuania began in 1999 and ended in 2002, concurrently with eight other nations in the region. The Agreement was then prepared and ratified over the course of two years. Only in 2004 did all 10 nations gain full membership in the European Union," – he stated.
The MEP said that for a successful admission, the negotiations must move swiftly, like they did in 1999, rather than slowly, as they do now. Furthermore, not only does Ukraine need to conform its legislation to EU standards, but the European Union as a whole must recognize that membership benefits more than just Ukraine and stop listening to kremlin threats.
"The European Union should also accelerate adjustments in the EU's decision-making machinery so that they do not impede further expansion," – Kubilius added.
According to him, Ukraine's example will send a strong message to residents in belarus and russia, encouraging them to seek similar changes at home.
Kubilyus stated that the EU will continue to support Ukraine, and that after the war, a multibillion-dollar reconstruction plan for Ukraine will be unveiled. After all, Ukraine's rebuilding will be a long-term process with significant financial requirements.
"To rebuild Ukraine, up to a trillion euros are required. The russian federation's frozen funds must be used for recovery. It should also take place in the area of infrastructural and economic transformation," – the European Parliament member emphasized.
Additional Information:
European Studies "ANTS" is an innovative approach to educate promising Ukrainian youth that immerses students in the theory and practice of European integration.
It consists of a combination of lectures by leading European and Ukrainian experts, intellectuals, and practitioners recorded in Bohdan Gavrylyshyn's apartment, from which a distance learning course on an open educational platform is formed, and further live meetings with lecturers of the most successful students.
The value of this combination lies in the listeners' in-depth and step-by-step understanding of the specifics of European institutions' work, their effectiveness, their links with national management systems, EU budget and fiscal procedures, as well as the activities of various markets, innovation ecosystems, the most recent developments in defense and security, and so on.
European studies are part of the NGO National Interests Advocacy Network "ANTS" bigger strategy to build and nurture a new state elite, a network of new generation specialists who will work for the good of Ukraine as members of state and civic institutions.