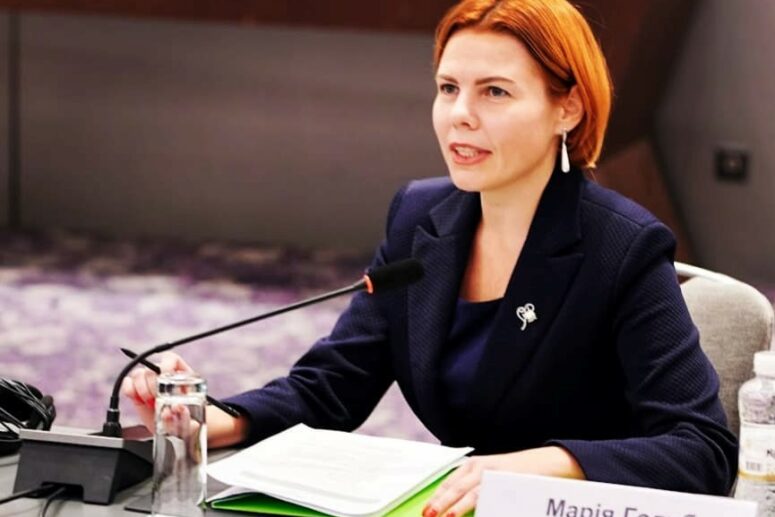 Ukraine should insist that it is in everyone's best interests to end the war as soon as possible and with a clear victory for Ukraine.
This was emphasized by Maria Golub, a National Interests Advocacy Network "ANTS" expert on European integration and bilateral relations with the EU.
"Since the beginning of the war, the European government and European countries were very worried that if they transfer modern weapons to Ukraine, they will have nothing to protect their own societies, or if they transfer offensive weapons to Ukraine, they will provoke putin. We tried to change these narratives. And in fact, we managed to convince that both of these messages are irrelevant. The first point is that putin will not dare to go to war with NATO member countries and EU member countries, because he does not have the ability to do so, and the second point is that Ukraine is not provoking putin, so he does not need to save face, his goals are clear – it is terrorist a country bent on committing genocide. According to Maria Golub, actions regarding the official recognition of russia as a state-sponsor of terrorism have become very active in the international arena in response to the latest escalation by the russian federation. – Consultations are currently underway, and it is important to understand that, for better or worse, the United States is entering the election process, and Ukraine will be one of the messages in it. It will not be limited to America, as key EU member states will also take part in the election process".
The expert emphasizes that Ukraine needs to insist that it is in the interests of the whole world for the war to end as quickly as possible and with a clear victory for Ukraine.
"This will be a response to the growing energy threats, as well as the russian federation's arranged food crisis and nuclear blackmail. We can truly end this war together if we work together, with real concreteness rather than just declarations. And, finally, the Europeans have recognized that this is a war of the entire civilized world against a dictator, against authoritarianism. They already see this war as theirs. This is confirmed by Borrell's speech (high representative of the EU). He clearly stated that this war should end with a Ukrainian victory, and that the rest of the world should participate as much as possible, – Golub said. – I am already impressed by the European bureaucracy's ability to reflect on and admit its own mistakes. b However, this is insufficient because, for example, it was clear to us at the start of the war that Putin would escalate regardless of Ukraine's or its partners' response. The EU is only now recognizing this. As a result, we must coordinate our response to russian aggression and collaborate with key capitals and partners to ensure that specific deadlines and deadlines are always specified. If we hear political statements about supplying Ukraine with the latest weapons, or about the next Ramstein meeting, or about funds being allocated to Ukraine for a quick and early recovery, we must speak up immediately so that the terms of aid are clearly announced."
A few more important theses from the conversation:
Germany was as unprepared as it could be for a full-fledged Russian invasion of Ukraine. This country has come a long way when society, which supports Ukraine far more than politicians, demands more active decision-making on the transfer of modern military equipment to Ukraine from its decision-makers. All of the atrocities committed by the russian federation on Ukrainian territory served as a wake-up call to societies and politicians worldwide, including Germany, that the response should be as harsh as possible.
About the Lukashenko regime and sanctions
There was a fairly clear signal that the sanctions policy should be extended to Belarus as well. Belarus vanished from the agents of European politicians for a period of time. There are now calls for the EU's new sanctions package, which it has already begun to consider, to include restrictive measures against the Lukashenka regime. It is critical to understand that Ukraine must protect itself as much as possible in the event of a variety of scenarios involving Belarus. In this case, President Zelenskiy took the initiative, and a proposal was made to locate the mission near the border with Belarus. Our security forces have informed us that we are strengthening the borders as much as possible, implying that we are now prepared for possible escalation actions in this direction as well. Indeed, the lessons of history are very eloquent here: no dictator can avoid responsibility in the end. A tribunal or internal processes within the country will allow the people to choose a more democratic path for development. As a result, the responsibility will undoubtedly come sooner or later.
On the President's proposal to place a mission of international observers on the border of Ukraine and Belarus to monitor the security situation
Everything is real, as the Ukrainian war demonstrated. We were told that many proposals would never be implemented because they were impossible, but then we saw how they were. This holds true for both weapons and political decisions. The concept has been expressed; it has the right to exist. We must now obtain an official response and then determine how to develop it into the most effective format. Perhaps it will be a mission in a different configuration than countries participating in international peacekeeping missions are accustomed to. But there is no doubt that the concept is alive and well, because it is in Ukraine's best interests to strengthen the international community as much as possible to obtain security guarantees.
More in the video: Миротворчі сили на українсько-білоруському кордоні – "ідея релевантна" – Марія Голуб – YouTube