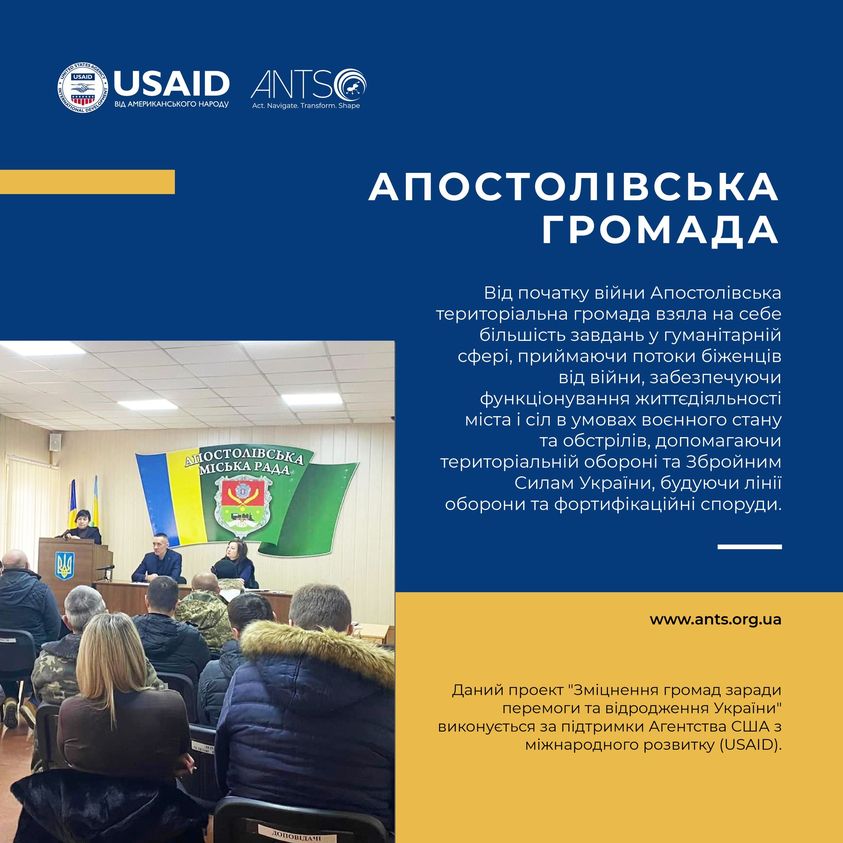 The Apostolivska territorial community is ready for changes and has joined the project "Strengthening Communities For Ukraine's Victory and Revival".
Apostolivska is one of the largest communities of the Dnipropetrovsk region, which includes 20 settlements. Before the beginning of the full-scale invasion, the community lived a bright life, made plans for the future, and developed.
But the war changed everything. The community is located in the south of Dnipropetrovsk region and borders the currently occupied Kherson region.
The front line is about 50 kilometers from the community's borders.
Since the beginning of the war, the Apostolivska territorial community has taken on the majority of the humanitarian tasks, including accepting the flow of refugees from the war, ensuring the functioning of city and village life in the face of martial law and shelling, assisting territorial defense and the Armed Forces of Ukraine, and constructing defense lines and fortifications.
russia's armed aggression resulted not only in the deaths of eight local residents, but also in widespread destruction. Seven ballistic missiles were fired at the city of Apostolovo as a result of the shelling on July 22, 2022, destroying all schools. The community has begun to address the consequences of the rocket attack on its own, but it now requires additional resources to restore educational institutions.
The Apostolivska city hospital has become the closest medical facility to the demarcation line, receiving injured military and civilians. During this time, it was possible to update the operating rooms, equipping them with the necessary equipment for emergency operations in collaboration with international and local partners.
Communal workers who work in difficult conditions to quickly eliminate the effects of shelling require special consideration in the community. The water supply network, both in the city and in the villages of the community, has already been repeatedly damaged by shelling, which is 99% worn out and subject to constant surges. KP "Apostolovevodokanal" always quickly repairs the network, despite the fact that it lacks modern equipment and means of eliminating surges.
The community is proud of its people!
Thanks to the courage and heroism of the Armed Forces, the front line is gradually moving away from the borders of Kryvyi Rih. The Apostolivska community is open to cooperation and new investments.
This project "Strengthening Communities For Ukraine's Victory and Revival", "Strengthening Public Trust" USAID/UCBI III is implemented with the support of the United States Agency for International Development (USAID).