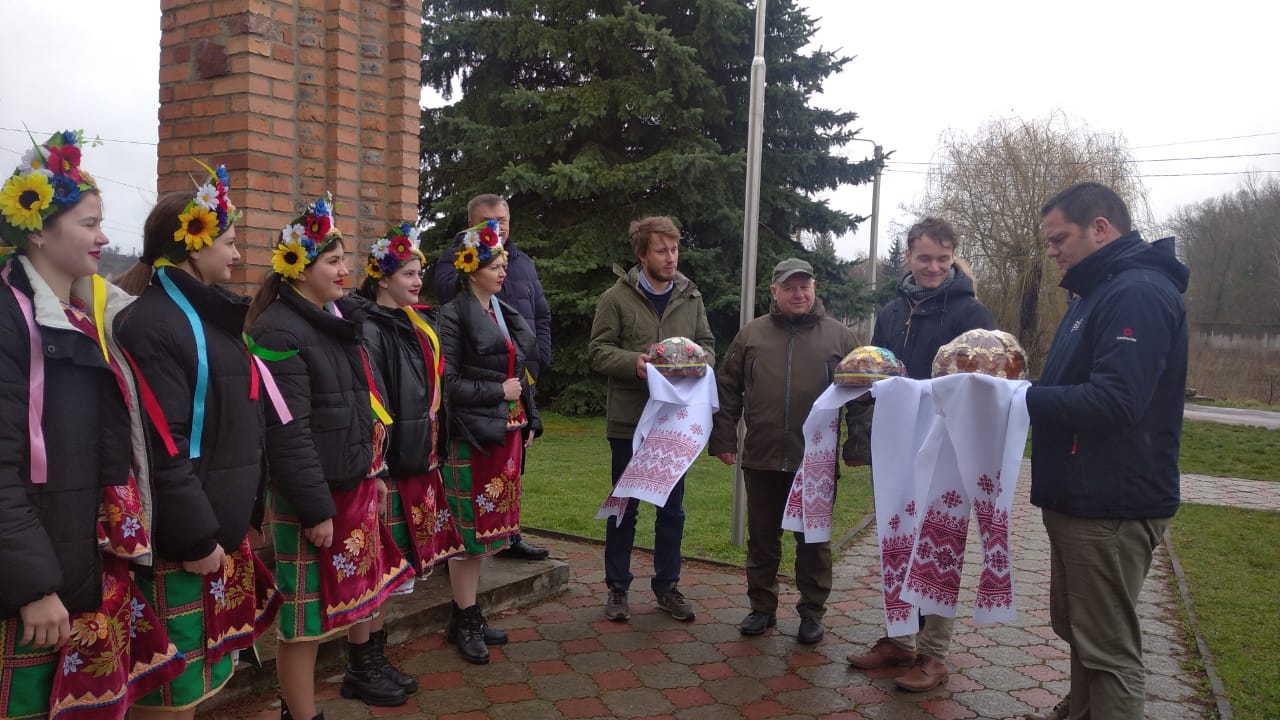 Ovruch hosted a delegation from the French city of Plec-L'Hermitage, headed by Mayor Thibaut Guignard. Such a visit is the result of an advocacy trip of Ukrainian community leaders to France.
«The French delegation was shocked by the consequences of russian aggression. On the way to Ovruch, the mayor of Plec-L'Hermitage, Thibaut Guignard, asked to show him the consequences of military aggression in Borodyanka as well. He was impressed by what he saw there and at our place in Ovruch. We also told him about the shelling of our city and the number of damaged objects. The delegation was also introduced to our community: a presentation was held in which the history of the region, economic condition and culture, etc. were told. After that, they conducted a tour – they showed not only the bombing sites, but also the construction of new facilities. In particular, we visited a kindergarten, which we are currently building thanks to our Estonian partners. It will have a modern bomb shelter capable of protecting our children during airstrikes,» says Nataliya Rybynska, deputy mayor of Ovruch. – In addition, we visited the library where the generators that we received as part of the French-Ukrainian initiative «Light through Winter» are installed. They enable the institution to work in the absence of light.»
Also, during the visit, the head of the French city of Plec-L'Hermitage was shown the school, the stadium and the Security Center.
Thibaut Guignard got acquainted with the Ovruch Small Academy of Folk Arts and Crafts and talked with the artist Mykola Klymovych, who makes unique paintings from straw. The artist has more than 100 paintings.
«A small mini-exhibition of his works was organized for the guests. Currently, most of his paintings are in storage to protect them during possible shelling. Mykola Klymovych not only creates himself, but also teaches children. The guests from France were impressed by the beauty of the exhibition and invited the artist and his students to show their works in the city of Plec-L'Hermitage,» Nataliya Rybynska said.
We will remind you that at the end of March, four heads of Ukrainian communities visited France to acquaint the local communities with the situation in Ukraine and establish partnership ties. The trip was organized by the «ANTS» Network together with the International Center for Ukrainian Victory and the French organization «Stand with Ukraine».
Reference: Plœuc-L'Hermitage (fr. Plœuc-L'Hermitage) is a commune in northwestern France, located in the Brittany region, Côte d'Armor department, Saint-Brieux district, Plaintel canton. Located 94 km west of Rennes and 21 km south of Saint-Brieux. Population (2019) – 4,103 residents.