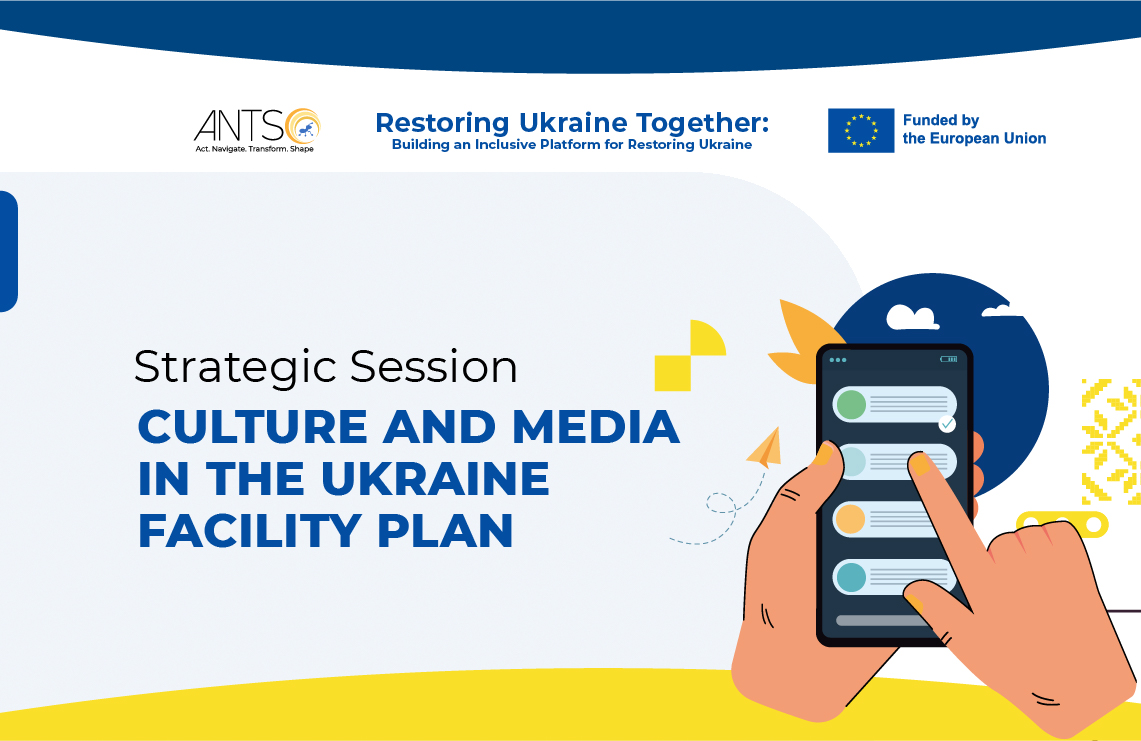 On October 4, a strategic session was held as part of the expert platform of the project "Restoring Ukraine Together," implemented by the ANTS The National Interests Advocacy Network with the financial support of the EU: Culture and Media in the Ukraine Facility Plan.
During the more than two-hour online session, experts Halyna Hryhorenko, Olha Rososhanska, Iryna Prokofieva, Anastasiia Obraztsova, Tetiana Filevska, Alina Pevna, Volodymyr Vorobei, Serhii Marusii, Mykola Skyba, Anna Karnaukh, Olha Diatel, Yurii Marchenko, Iryna Osadcha Iryna Solovei, Anton Korvin-Piotrovskyi, Anna Kruk, Tamara Trunova, Victoriia Kolesnikova, Oleksii Maksymenko, Tetiana Popova, and Yuliia Khomchyn discussed the ways and format of including the culture and creative industries' development section in the Ukraine Plan under the Ukraine Facility* program.
The discussion touched upon several important topics:
Problems with the quality of life and attractive working conditions in the sectors. 

The freezing of important reforms and the limited ability of central authorities to implement them in the face of budget deficits.

The need to specify the conditions of budget support for the current activities of state cultural institutions. 

The need to consolidate the efforts of development partners and local governments to support the capacity and viability of independent institutions and artists. 

Timely response to the growing public demand for the creation of a modern Ukrainian-language (and English-language) cultural product for different audiences.

Critical needs of audiences to work with trauma and other negative consequences of the war.
The participants agreed to structure further dialog around three topics:
A list of necessary reforms that will allow for a gentle transformation of the existing outdated models of cultural institutions, approaches to financing, and the institutional landscape.

A list of priorities and indicators for budget support by sector, focusing on capacity and responsibility. 

Specifying the action plan and creating a common vision of restoration and modernization.
As a result of the platform's work, it is planned to develop a draft document that will be submitted to the Ministry of Culture and Information Policy of Ukraine and the Cabinet of Ministers of Ukraine for inclusion in the final version of the Plan of Ukraine, which is being developed by the Ministry of Economy.
*The Ukraine Facility is a special instrument managed by the European Commission to provide short- and medium-term financing for Ukraine's recovery and reconstruction needs in 2024–2027.
This publication has been funded by the European Union. Its contents are the sole responsibility of the project "Restoring Ukraine Together" and do not necessarily reflect the views of the European Union