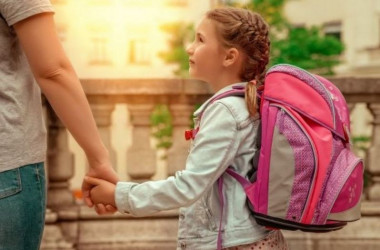 How can we assist Ukrainian children who have been forced to take refuge abroad as a result of the war in adjusting to new circumstances, receiving a quality education, and remaining connected to Ukraine?
During an online discussion, representatives from public organizations and educators discussed finding and implementing solutions: "A bridge back home. Refugee children's education during the war and their return to postwar Ukraine".
"The issue of Ukrainian children's education during the war is acute in both Ukraine and Slovakia, which accepted Ukrainian refugees," says Nataliya Veselova, project leader of the "International Center for Ukrainian Victory in Bratislava (Slovakia), ICUV Slovakia." – More than 5 million people fled the war to European Union countries, including 2 million children. The number of refugees is the highest since World War II. The majority of those fleeing Ukraine are women with children. Of course, they continue to be without the support of men and without work, but they are also forced to feed and raise children. In a new location, they must deal with issues such as finding housing, work, schools, kindergartens, and so on. In such a situation, the language barrier, psychological pressure, and stress all become obstacles. These are significant challenges because we were not prepared for them".
Veselova emphasized that the language barrier and differences in curricula between European and Ukrainian schools prevent students from quickly integrating into the new educational system. Furthermore, many children are forced to continue their distance learning in a Ukrainian school, which adds to their stress. A student faces a significant burden when attending two schools at the same time.
Hanna Shvachka, the head of the non-governmental organization Ukraine-Slovakia-SOS, who was among the first to assist Ukrainian refugees and continues to do so, took part in the discussion. Mrs. Hanna shared her experience establishing and running a Ukrainian school during an evacuation.
"The mobilization of the Ukrainian community in Slovakia has accelerated, and we have launched new initiatives that are already operating at a fairly stable level. The "Ukrainian school in evacuation" was one such initiative. The program educates 65 Ukrainian children and is taught by 21 teachers, 15 of whom are refugees. Monday through Thursday, the children study".
The experience of creating a Ukrainian school in Geneva was shared by its coordinator Olena Vynogradova:
"In Switzerland, even if you don't have documents, you can't avoid going to the local school." In any case, everyone is required to complete a general secondary education. This is the responsibility of the parents. I was outraged when I learned that Russian schools in Geneva were opening their doors directly to flood Ukrainian refugee children, and I posted about it on social media. It was discovered that this situation is not limited to Switzerland, and that it is necessary to discuss it. Our project is a collaboration with a long-running organization in Geneva called "Ukrainians in Switzerland". We decided that constructing a Ukrainian school was essential. Because it was difficult to organize a full-fledged study, this is a Sunday school. It is visited by Ukrainian children who live permanently in Switzerland as well as those who have been granted temporary asylum here. There are approximately 120 children registered. 28 volunteer teachers joined professional Ukrainian teachers who were granted temporary asylum in Switzerland. The program was created with the needs of Ukrainian children living in Geneva and its surroundings in mind. Ukrainian schools abroad require assistance. The war simply brought this issue to light," – Olena Vynogradova emphasized.
Yuliya Bulyshkina, a child psychologist who works in one of Bratislava's schools and helps Ukrainian children adjust, emphasizes that it is difficult for children to study under two education systems at the same time:
"However, if the child selects only one school, additional complications arise. As a result, when a student transfers completely to the Slovak education system, the Ukrainian one is dropped. Furthermore, if the child attends an online Ukrainian school, integration into the Slovak environment is lost. In reality, this is a personal matter. And I believe that each family should decide whether they want me to return to Ukraine or stay. And then push back on that".
The deputy director of the Ministry of Education and Culture's reform support team for the "New Ukrainian School" direction, Roman Shiyan, emphasized the importance of striking a balance between the local education system, where Ukrainian children are, and the Ukrainian education system.
"And the discussion you linked to in the title of today's discussion was supposed to be two-sided. To begin with, not everyone who wishes to return is permitted to do so. Second, once the war is over and we have won, our European integration will begin, and I would like this door to remain open. As a result, it is critical to obtain an education in the local system while also maintaining contact with the Ukrainian system. There is one piece of good news that will assist us in overcoming all of these obstacles. This is due to the fact that our state standards are based on common European principles. All of these competencies, upon which the single European space is built, form the foundation of our educational content documents".
Participants raised the issue of the employment of educators who do not have the opportunity to return home during the discussion, in addition to the issue of the education of refugee children.
"For the most part, these teachers are now out of work. They were given a deadline: if they did not return to Ukraine, they would lose their jobs. It is preferable if the teacher is from Lviv or Kyiv, or from another city or village that is not subjected to shelling. And what should Kherson, Kramatorsk, and other cities where hostilities are currently taking place do if they are under occupation? They will be unable to return to Ukraine and will be forced to remain in their current location. And in this regard, we propose working on the integration of our educators, giving them the opportunity to learn the language and assisting them in integrating into the education system of the country in which they find themselves. "They could, for example, be teachers' assistants in classes where Ukrainian children study," – Nataliya Veselova emphasized.
After sharing their three-month experience, the activists and educators concluded that there are only a few months left to find the best solutions so that the educational process can begin in the new academic year, taking into account all of the issues raised.
Information: The International Center for Ukrainian Victory (ICUV) was founded in response to russia's full-scale invasion of Ukraine. Warsaw is the headquarters. The ICUV branch in Slovakia opened in June. The center's mission is to advocate for and defend Ukraine's interests at the international level, as well as to support actions aimed at accelerating victory in various dimensions in the short and long term, while also establishing horizontal ties between Ukraine and Slovakia.