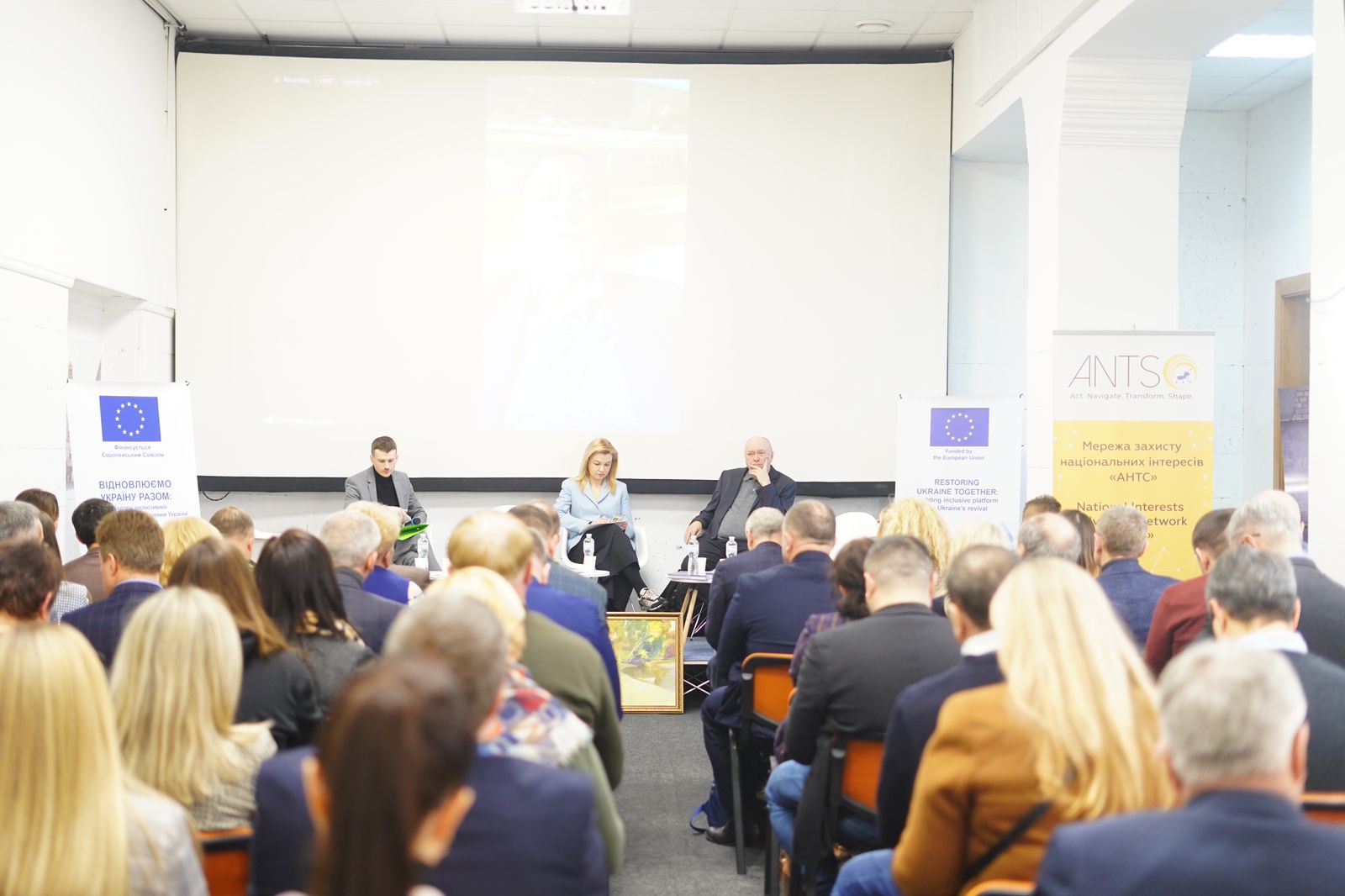 During the russian federation's full-scale invasion, Ukrainian territorial communities proved to be a reliable rear.
This was emphasized by Vasyl Segin, the executive director of the National Interests Advocacy Network "ANTS", during the "Voice of Communities" panel, which was conducted as part of the forum "Strong as the Earth: approaching the victory".
"Mayors of cities and heads of communities understood who had power and resources and did not wait for orders from Kyiv to solve acute problems related to both IDPs and territorial defense support, collection of various types of aid for mutual support of communities in more difficult conditions," – Vasyl Segin said. – There is now a pragmatic realization that the war could go a long time and that recovery could take tens of years due to the devastation of hundreds of billions of dollars. At the same time, recovery based on transparent, inclusive approaches and the establishment of sustainable institutions, including at the local level, is the most successful and represents our route to a more efficient society. Territorial communities have a place in the rebuilding process since local self-government is closest to the people and understands their needs. The largest impact of the modifications is visible at this level".
During the discussion, Oksana Prodan, the Chairman of the Association of Cities of Ukraine's municipal affairs adviser, emphasized that today's communities have different tasks because they are located in four types of territories: in the rear, in de-occupied territories, in the combat zone, and in those awaiting de-occupation.
"At the same time, everyone is tasked with finding cash for reconstruction. The fundamental objective of the Ukrainian Association of Cities is to help people get what they need and to establish a good future for towns".
Ukraine's reconstruction is a time-consuming and resource-intensive undertaking. As a result, it was critical to begin planning for recovery as soon as feasible. The registry of damaged property will assist Ukrainians in developing an effective recovery strategy and compensating for damages. According to Dmytro Turchak, Director of the Directorate of Strategic Planning and European Integration at Ukraine's Ministry of Infrastructure, the newly established base has already begun operations.
"A database, a registration of destroyed items, has been constructed. The registration is now operational; there are some technical issues, but they are being addressed. We are collecting community feedback and will have an updated register soon. Concerning control, we rely on and provide recovery mechanisms based on openness. The Digital Management System for Ukraine's Reconstruction will be launched soon. We do not separate Ukraine's recovery and development. Our motto is to rebuild better than before", – he said.
During the panel discussion, decentralization changes were also discussed. Despite the war, Svitlana Spazheva, deputy head of the All-Ukrainian Association of OTG, dubbed it the most successful.
"Even in conflict, we see positive transformations. Congratulations to all of you community leaders for taking an active role in the transformation. As of today, self-governing bodies and Ukraine's Armed Forces function as one unit: one protects, the other helps. From the initial hours of the full-scale invasion, communities began to supply armed troops, ground defense, fortifications, equipment repair, and assistance to the forcibly displaced people".
She highlighted that the timing of Ukraine's restoration will be determined by where the region is located.
"Post-war reconstruction is a difficult process that requires citizens and community members to be treated equally. That is why we must begin reconstruction and assist citizens in returning home," – she added.
As there are no communities or states without people, Anatoliy Tkachuk, Director of Science and Development at the Institute of Civil Society, designated one of the tools for restoring people to communities.
"And now we face a new challenge: we have officially registered 4.7 million internally Displaced Persons (IDPs) in Ukraine. We conducted a survey with the Council of Europe in November. 73% of respondents answered they will not alter their community of residence, implying that 2.7 million individuals will most likely not return".
According to him, the villages that received IDPs want people to stay, and the communities from which they fled want them to return.
"And in both cases, this is right. We need to discover a happy medium that satisfies both the first and second criteria. And now we get to the zoning of the state's territories. Ukraine is no longer a transit country. The borders to the north, east, and south are all closed. We must admit that the villages along this border require unique measures to develop infrastructure and businesses. The core regions are the next segment, where there are better security conditions, allowing certain sorts of economic operations to be deployed. There is a third section – the western territories – in the back. The population has increased, creating new conditions and opportunities. Our main win and the main economy should be forged here. As a result, a technique that enables understanding of what and how to repair is required. Furthermore, even after the conflict, the economy will continue to decline, and our partners will not compensate us for everything, therefore we must build new instruments that allow us to preserve resources in the middle."