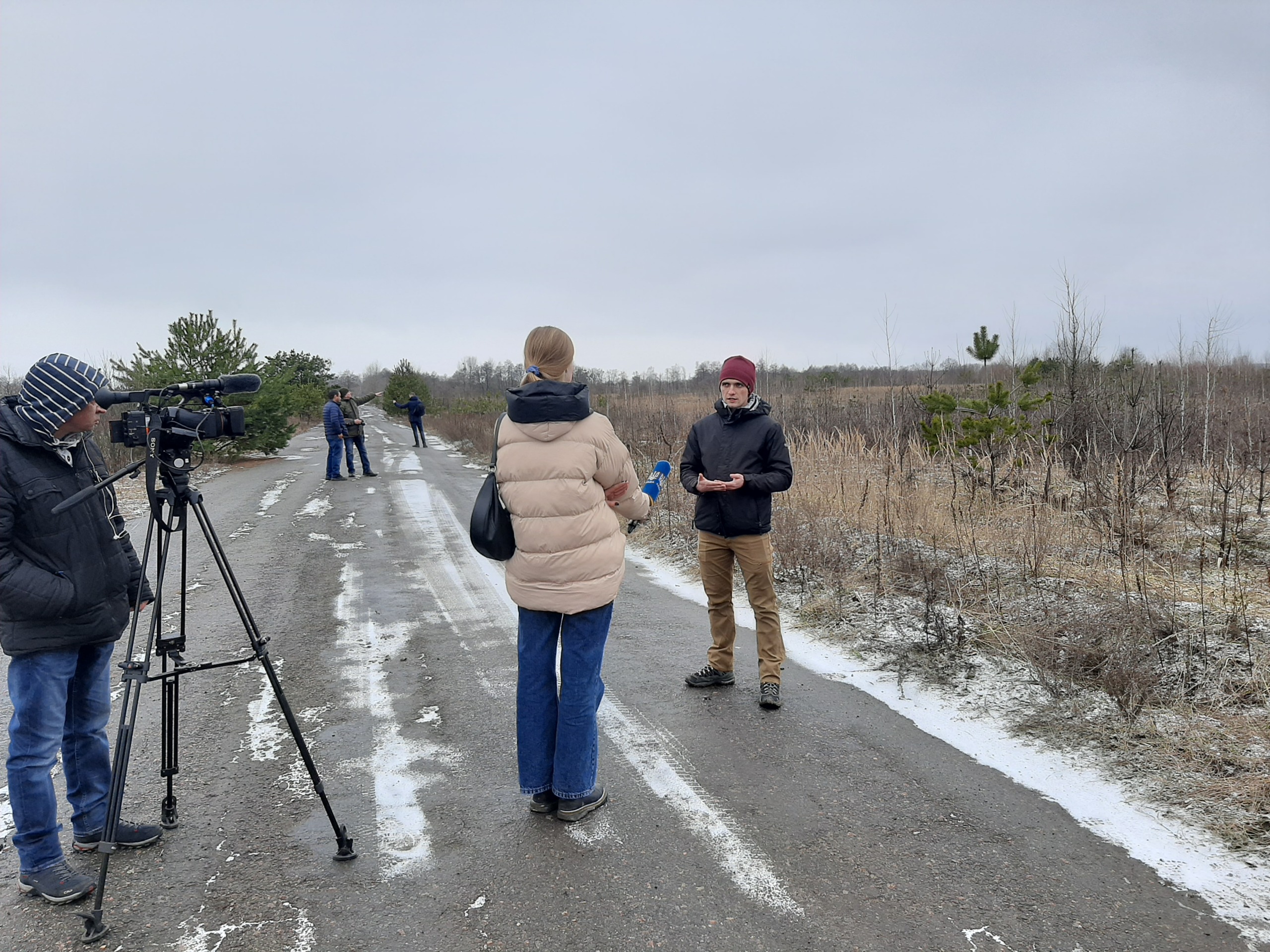 Olena Sas, project manager of the National Interest Protection Network "ANTS," and a group of ecologists and journalists documented environmental crimes and ecocide facts as a result of russia's invasion of Ukraine on the territory of the "Drevlyanskyi" Nature Reserve.
The reserve suffered losses from the start of the war, not from natural causes, but from the hands of russian invaders who invaded Ukraine.
The russian military purposely dropped incendiary ammunition from a rotorcraft on 45 hectares of young pine trees near the village of Nozdrishche in the Narodytsky district, causing a fire and the destruction of not only pine trees but also dry grass, destroying the entire ecosystem of a young forest.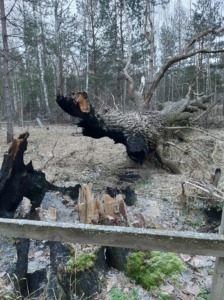 "The young trees were each four years old at the time of the large-scale invasion on February 24, 2022. Shelling-caused fires were also found in protected, relict forests. The occupiers deliberately set fire to the hollow of a 600-year-old relict oak tree and destroyed it. A missile strike destroyed another oak of the same age nearby. It is impossible to calculate the damage because the marked oak grove has national historical significance because the events of the UNR army's Second Winter Campaign in 1921 are linked to it," said acting officer. director Mykola Shelyuk.
According to him, enemy shelling repeatedly caused destruction and fires in other protected zone territories, as well as in the village of Mali Klishchi, where victims lived.
The reserve team was constantly performing rescue work with special equipment, plowing protective strips, and employees were on duty in the forest 24 hours a day at a specially created support point.
"For natural forest regeneration, there should be at least 3,000 trees per hectare of land, not 1,400-1,500, as there are now in the most affected areas, so we will have to help nature, but in the most natural way possible, such as birds burying acorns and cones. The reserve's employees are now harvesting this seed material in order to contribute to nature's recovery," – Mykola Shelyuk explained.
Serhiy Konyukh, the department's head, stated that vast areas of forest are mined, and it is impossible to determine the exact area of mining, but we are talking about thousands of square kilometers.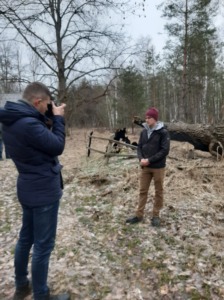 "Several Narodytsky Forest Farm employees were killed or injured as a result of a mine explosion while performing their duties. Mines also kill animals, particularly large ones like moose, deer, and wild boar. Because access to burned forests is limited due to mining, the scale of fires must be assessed using quadcopters. According to experts, the total area of burned forests is at least 2,000 hectares "Serhii Konyukh completely agrees.
In addition to fire damage to the Polissia environment, explosions from ammunition hits and rocket fuel contamination are a problem. There are also active migrations of animals scared by fires and battle or shelling sounds.
Ecologist Bohdan Kuchenko emphasizes the importance of a professional ecological assessment of these facts using methods specifically approved by legislation, in addition to documenting them as tragic stories and drawing the attention of Ukrainian society.
"These methods are no longer sufficient; this also applies to the method of calculating reserve fund losses. The environmentalist advocates for the unblocking of state environmental control reform. This will allow Ukraine to integrate ecosystem services. If this is not done, proving the facts of ecocide will be extremely difficult or impossible in the international criminal court or other justice bodies that will be established (such as a special tribunal)," the ecologist warns.
Addition information:
The Drevlyan reserve covers 30,872.84 hectares. On December 31, 2009, it was founded.
This is a significant nature conservation area in Zhytomyr Oblast's Narodytsky District. It is situated to the south and east of Narodychy, on the banks of the Uzh River and its right tributaries, Loznytsia, Osliv, and Zvizdal. The reserve's territory includes large areas of forest, zones of unconditional resettlement as a result of the Chernobyl disaster, and small areas of former agricultural land.
More than 20 years after the Chernobyl disaster, the anthropogenic impact on forest and other natural ecosystems, as well as former agroecosystems, was minimal.
The reserve's flora includes 913 vascular plant species listed in Ukraine's Red Book – 22 species, 150 species of lichens and lychenoid fungi, and 125 species of mosses. In general, the reserve's animal world corresponds to the composition of the Polish region's fauna.
There are 516 animal species recorded here, 45 of which are listed in Ukraine's Red Book. In addition, two new lichen species have been described for science: Lecanora Orlova and Rusavskya Drevlyanska.
We'd like to remind you that specialists from the international charity organization " Environment-People-Law" and National Interests Advocacy Network "ANTS" have been investigating russian crime since the beginning of the war, taking soil samples and documenting everything in photos and videos. Environmentalists flee wherever they can.