As part of the "Models of Participation in Ukrainian Reconstruction" project, regional coordinator Anastasiia Liskova visited Berdychiv Children and Youth Sports School (CYSS), where she talked with Liudmyla Hvizdon, a trainer-teacher and weightlifting teacher of the highest qualification category who manages the institution.
Liudmyla Valeriivna has been coaching since 1997 and has many personal achievements and honors: Master of Sports of Ukraine, judge of the national weightlifting category, and acting president of weightlifting in the Zhytomyr region.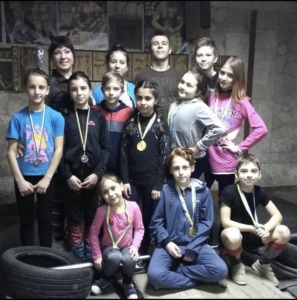 Athletes of the I-III categories from the Olympic sport of weightlifting are engaged in the center. Ms. Liudmyla's pupils regularly become winners and prize-winners of regional and all-Ukrainian competitions, starting from childhood. Everyone who wants to develop and work on themselves or simply needs help is always welcome at the State University of Youth and Sports. After all, training is not only about sports but also about education and psychological support. In addition to children and teenagers, classes are attended by people with disabilities, forced migrants, and our heroic soldiers who need rehabilitation.
Then direct speech.
How long have you been the head of CYSS?
More than 15 years is a long time, but I get a lot of satisfaction from this work. It is very gratifying to observe the progress of our wards. After all, we work to benefit people.
What do you like most about your job?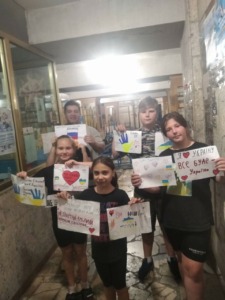 Most of all, I like to see the final results of the young champions! If we talk about the training of the younger generation and their successful performances at competitions of various levels, then it is not only about physical training but also about discipline and responsibility – these are the qualities that will definitely not hinder them in adult life. Each of our young pupils begins to realize that the result always comes if there is effort and work.
What is the most difficult?
Seeing when one of the pupils stops halfway and stops working on himself. Therefore, an extremely important aspect is psychological work with everyone who comes to the hall. But if we do not try to interest them, unfortunately, there is always a certain percentage of those who stop practicing.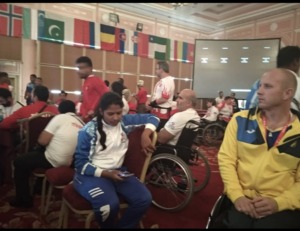 Do you work with people with disabilities?
Yes, but unfortunately, there are not as many of them as we would like. It is difficult for many of them to overcome psychological barriers and enter society. After all, quite a large number of different people train with us, and it is simply impossible to provide a completely individual approach. At the same time, we conduct training for people with disabilities 3-4 times a week.
Individual training programs are developed for each of them, based on their physical capabilities and rehabilitation needs. I can say with confidence that moderated physical activity under the supervision of trainers is beneficial in the absolute majority of cases.
Rehabilitation helps restore body function, improve mobility and coordination, and improve overall health, which can be achieved through exercise and physical therapy. The psychological aspect is also important. When people train, their mood always improves; they feel more integrated into the team and communicate with each other.
The only thing we really lack is additional technical equipment and various types of exercise machines for rehabilitation. We always want to help as much as possible, but due to technical limitations, in some cases we are simply not able to complete full-fledged courses at 100%.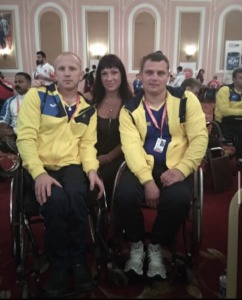 However, we try to work qualitatively. A large number of pupils participate in serious competitions at the national and international levels. For example, in the period 2020-2023, our pupils won many serious awards at all-Ukrainian competitions in weightlifting (in different age and weight categories). Maksym Hvizdon became a two-time silver medalist at the Ukrainian championships and a three-time regional record holder in three different weight categories. Daria  Kozachuk  also won two silver medals at the Ukrainian championships. Krystyna Badasian and Nazar Raduha received bronze awards at the 2022 Ukrainian Championship. In fact, there is much more to be said about achievements because pupils are our greatest pride.
Do you have military personnel?
So. As a rule, we are talking about those who are recovering after service, including injuries. To understand, almost everyone has problems with the spine; it is associated with injuries, stress, and, to a greater extent, excessive physical exertion. Imagine how difficult it is to wear body armor and combat kits for a long time under conditions of stress and physical intensity; this, unfortunately, has its negative consequences. In most cases, boys are engaged after minor injuries.
But there are also those who have certain consequences from the service: bruises of the spine, displacement, pinching of intervertebral discs, hernias in the spine, and almost all of them have contusions.
It is important for them to develop the strength and stability of the back muscles. This can be done with a set of special exercises that are aimed at strengthening the back, such as pull-ups, weight exercises, and planks. Regular exercise will help improve the support of the spine and reduce the feeling of tension. Also, we see at the center that for military personnel, training is necessary for psychological rehabilitation and adaptation to civilian living conditions.
In the hall, they have the opportunity to switch off, in the good sense of the word, to somewhat reset their own consciousness. People are exhausted both physically and emotionally. To be honest, the oppressed have changed a lot, but activity is good. It is not only about classes. You saw that we have a lot of children who communicate with the military, and it helps the latter a lot. They even begin to smile a lot; this is already big progress.
My children and I constantly try to support them as best we can; we constantly send drawings, letters, and posters. To some, such things may seem trivial, but to our defenders, they are extremely important.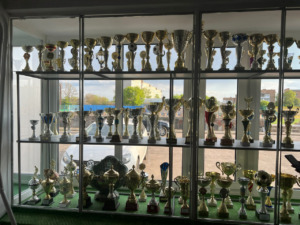 Of course, the most important thing is that our defenders return alive, and with rehabilitation, we help and will continue to do so in the future.
Do they visit the IDP hall?
Yes, there are guys who have moved to Berdychiv from Mariupol since the beginning of the war and work with us. From our side, we create all the possibilities for this. This helps them adapt and find new friends.
The ANTS project "Models of Participation in Ukrainian Reconstruction" is implemented in cooperation with the National Democratic Institute (NDI).