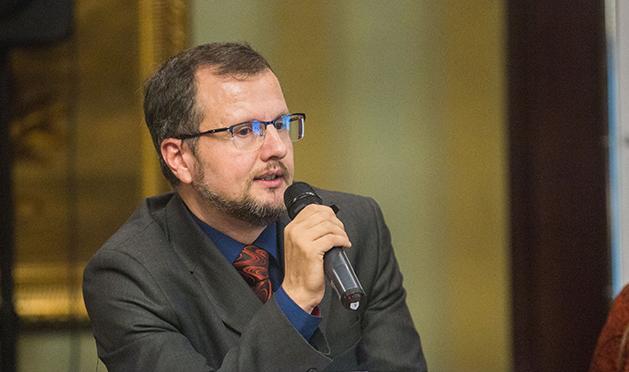 The russian federation's full-scale unprovoked invasion of Ukraine in 2022 made it the most difficult year in the country's modern history.
Despite the massive amount of destruction and victims, the country is still alive; there is no shortage of food, gasoline, or other goods; public transportation is operational in most cities; and Ukrainians are gradually returning to their homes.
Ilya Neskhodovskyi, head of of the analytical department the National Interests Advocacy Network "ANTS" summarized the results of 2022.
January 20, 2022. The economic crisis, in conjunction with the spread of the COVID-19 epidemic, did not result in a breach of Ukraine's stability. Ukraine's economy grew slowly. Product prices set records but partially stabilized, while exports to the EU increased 1.5 times faster than trade with China and russia.
February 20, 2022. On February 24, 2022, around 5 a.m., russian troops used air, land, and sea forces to invade Ukraine. The russian offensive military operation's goal is to destroy the Ukrainian state, seize Ukrainian territory by force, and establish occupation control. Throughout the air offensive operation, the enemy continued to fire on military and civilian airfields, control points, air defense system facilities, critical infrastructure settlements, and defense units. In violation of international humanitarian law, the occupiers launched covert rocket attacks on residential buildings and civilian infrastructure across Ukraine's territory. Exiled subversive intelligence groups infiltrate city streets and murder civilians.
March 2022. Attacks on Ukrainian cities continue indiscriminately. The russian federation conducts aerial rocket-bombing attacks, destroying military and civilian targets. In large cities, indiscriminate ammunition is used in residential areas. The main battles are concentrated in the joint forces' operational zone: Mariupol and Mykolaiv. Tactical actions are being carried out in Kyiv, Sumy, Chernihiv, and Kharkiv. Russian forces use force against civilians while besieging populated areas. The means and methods of waging war used are clearly illegal under international law and international humanitarian law. russian military installations in temporarily occupied territories prohibited seismic sensor mines. The russian military employs prohibited phosphorous projectiles. After a long stay in the Chernobyl exclusion zone, the russian military is beginning to leave. The United Nations Human Rights Council has created an international independent commission to investigate war crimes in Ukraine.
April 2022. Total physical damage was estimated to be $80 billion as of April 1, 2022. This sum is mostly spent on transportation infrastructure and housing construction. The general budget fund's deficit for the first quarter of 2022 is UAH 67.5 billion. The russians have mined approximately 13% of Ukraine's territory. There is a risk of a protracted war in the Kharkiv, Luhansk, Donetsk, Zaporizhia, and Kherson regions, which produce 23% of wheat, 3% of corn, 21% of barley, and 20% of sunflower seeds. Industrial assets have been damaged to the tune of $6.7 billion. At least 30% of Metallurgy's assets were lost. Among the most significant losses were "Azovstal" and "MMK Ilyich," Ukraine's second and third largest metallurgical plants, respectively. Since February 24, 2022, an estimated 4.2 million people have fled Ukraine, according to UN estimates. As a result of the war, nearly 6.48 million people have been displaced in Ukraine. These losses may result in labor shortages in Ukraine and a slower post-war economic recovery. The regions most affected account for 30% of the national GDP. According to various projections, GDP will fall by 10% to 40% in 2022. At least 70% of Ukraine's GDP is still generated by the same sources.
June 2022. Ukraine's macro-financial stability is deteriorating. The Ukrainian National Bank reacted to the threat of a currency crisis with radical and unpopular measures.
As security concerns in their cities subside and economic activity resumes, refugees are beginning to return home.
According to surveys conducted by the European Business Association (EBA), as of June 3 (the 100th day of the invasion), 50% of the association's member companies were operating at full capacity, up from 28% in May. 17% of businesses that had previously ceased operations resumed production or service provision. 63% of businesses pay their employees in full. The remaining metallurgical enterprises are recovering; they have begun to produce new types of products in response to changes in demand in both domestic and foreign markets. The government lifted price controls after fuel shortages caused by missile strikes on fuel storage and production facilities, price caps, and a sowing campaign. Fuel prices increased by 22.8%, according to Ukraine's State Statistics Service. Farmers benefited from a soft loan program designed specifically to assist with sowing. The blockade of Ukrainian Black Sea ports made logistics and, as a result, exports more difficult. However, according to Ukraine's Ministry of Agrarian Policy and Food, agricultural product exports increased by 180% in tons in June compared to May 2022. Imports are rapidly rebounding as a result of liberalization and tax cuts. GDP fell 15.1% in the first quarter of 2022 compared to the same period last year, according to Ukraine's State Statistics Service.
July 2022. The Ukrainian economy's problems are worsening, forcing the government and the National Bank of Ukraine to take difficult steps, such as changing the fixed exchange rate and asking Eurobond holders to postpone payments. The NBU was forced to raise the fixed exchange rate from UAH 29.25 to UAH 36.6 per dollar in order to prevent reserves from being depleted and to correct the imbalance between the conditions of exporters and importers. The scale of production in the metallurgy industry is shrinking; iron ore production fell by a quarter in May compared to the previous month. The rate of receipt of international financial aid increased at the beginning of July. Negotiations in Turkey over the Black Sea corridor from Odessa ports provided an opportunity to partially open grain exports (reducing the probability of a food crisis in the world). The conference in Lugano was devoted to Ukraine's post-war reconstruction. Ukrainian authorities have presented a plan for Ukraine's recovery worth hundreds of billions of dollars. However, no promises of adequate funding from partners have been made. Ukraine was designated as a candidate for membership in the European Union by the European Council on June 23, 2022. Ukraine must complete critical tasks related to reform implementation.
August 2022. Ukraine's economy is continuing to improve. The majority of businesses have resumed operations. The cost of the war is rising. Production in metallurgy has been reduced, and another iron ore mining enterprise has closed. The balance of payments continues to be in deficit. Some banks began to experience difficulties as a result of the high discount rate. Approximately one-third of Ukrainians are currently unemployed. Ukraine, russia, Turkey, and the United Nations have reached an agreement on commercial shipping safety guarantees. The agreement is valid for 120 days and covers the ports of the Odesa region, but it may be extended to include the ports of Mykolaiv in the future. The fuel market crisis is over, and electricity exports to Europe are increasing, but russian federation attacks on the Zaporizhia NPP and power lines have resumed. Nuclear espionage. The main risks of the heating season are physical threats to infrastructure, as Russia has the ability to resume power plant strikes when necessary.
September 2022. The Ukrainian economy began to stabilize in September. Thanks to external financing, it was possible to almost equalize the balance of payments and finance the state budget deficit, whose revenues decreased as the economy declined and expenses increased as a result of the need to finance hostilities. The government has proposed a budget for 2023 that includes a record deficit. Expenditures are expected to be nearly twice as high as revenues. The Ministry of Defense of Ukraine will receive more than a third of all budget expenditures and more than two-thirds of all government revenues. Ukraine's Ministry of Finance is relying on foreign grant funding. Reviving the economy would help reduce the load, but in the face of war risks, this is unlikely.
October 2022. According to Ukraine's Ministry of Economy, the country's GDP fell by 30% in the first nine months of 2022. Prices and inflation are both rising. Prices in Ukraine are expected to rise by no more than 30% by the end of the year. One of the reasons is entrepreneur behavior. The expectations of business representatives interviewed by the National Bank of Ukraine regarding supplier prices significantly outstrip their expectations regarding prices for their own products, implying that they are willing to sacrifice profitability in the face of increased competition and decreased demand. The main threat is the destruction of energy infrastructure by missiles, which is still being implemented. The largest missile attack since the start of the war occurred on October 10, 2022, resulting in the destruction and damage of energy facilities in the capital and nine regions. Another blow was delivered on October 17, 2022. Iran's provision of kamikaze drones and surface-to-surface missiles has increased the risk.
November 2022. Ukraine's armed forces were successful in liberating the entire right bank from the occupiers, including Kherson, where national companies have already resumed operations. The grain contract, which was set to expire on November 19, was extended for another 120 days under the same terms. russia is still destroying Ukraine's energy infrastructure across the country. Several waves of massive rocket attacks have occurred in the last month. Even though air defense is becoming more effective, some missiles still reach their targets. Energy companies must limit their consumption. Businesses and the general public adjust to the situation. Foreign partners contribute funds and equipment.
December 2022. russia is still destroying Ukraine's infrastructure. Europe, the United States, and Canada will provide funds and equipment to Ukraine. US President Joe Biden signed the 2023 defense policy bill, which includes $800 million in military aid to Ukraine, on December 23, 2022. The draft US federal budget includes $45 billion in aid to Ukraine and its allies. Charles Michel, President of the European Council, advocates the creation of a mechanism that would result in russia's membership in the UN Security Council being suspended as a result of its aggression against Ukraine. The occupiers continue to lose money.
According to AmCham data, a survey of more than 100 general directors and top managers from American Chamber of Commerce in Ukraine member companies was conducted:
98% of businesses have employees who work remotely;
17% of businesses reported having employees who died as a result of a full-fledged war on Ukrainian territory;
11% of businesses reported having employees who went missing during the full-scale war on Ukrainian territory;
52% of companies have employees in "hot spots" on Ukrainian territory;
96% of companies' employees relocated to other regions of the country after the full-scale invasion of Ukraine's territory;
98% of companies' employees relocated to other countries after the full-scale invasion of Ukraine;
60% of companies offer employees the option of working in a Ukrainian office with a physical presence in another country;
26% of businesses offer employees jobs in another state's branch;
26% of companies cover the costs of employee housing rentals;
29% of companies relocated within Ukraine, while 19% relocated abroad;
57% of businesses believe that Ukraine's post-war reconstruction will begin in 2023, 31% in 2024, and 6% in 2025.
Expectations for 2023 range. Dragon Capital predicts a 5% drop in GDP, while ICU predicts a 4% increase. According to a European Business Association survey, only 1% of companies completely ceased operations due to a blackout, 12% closed a portion of the network, and 40% reduced production or service volumes.