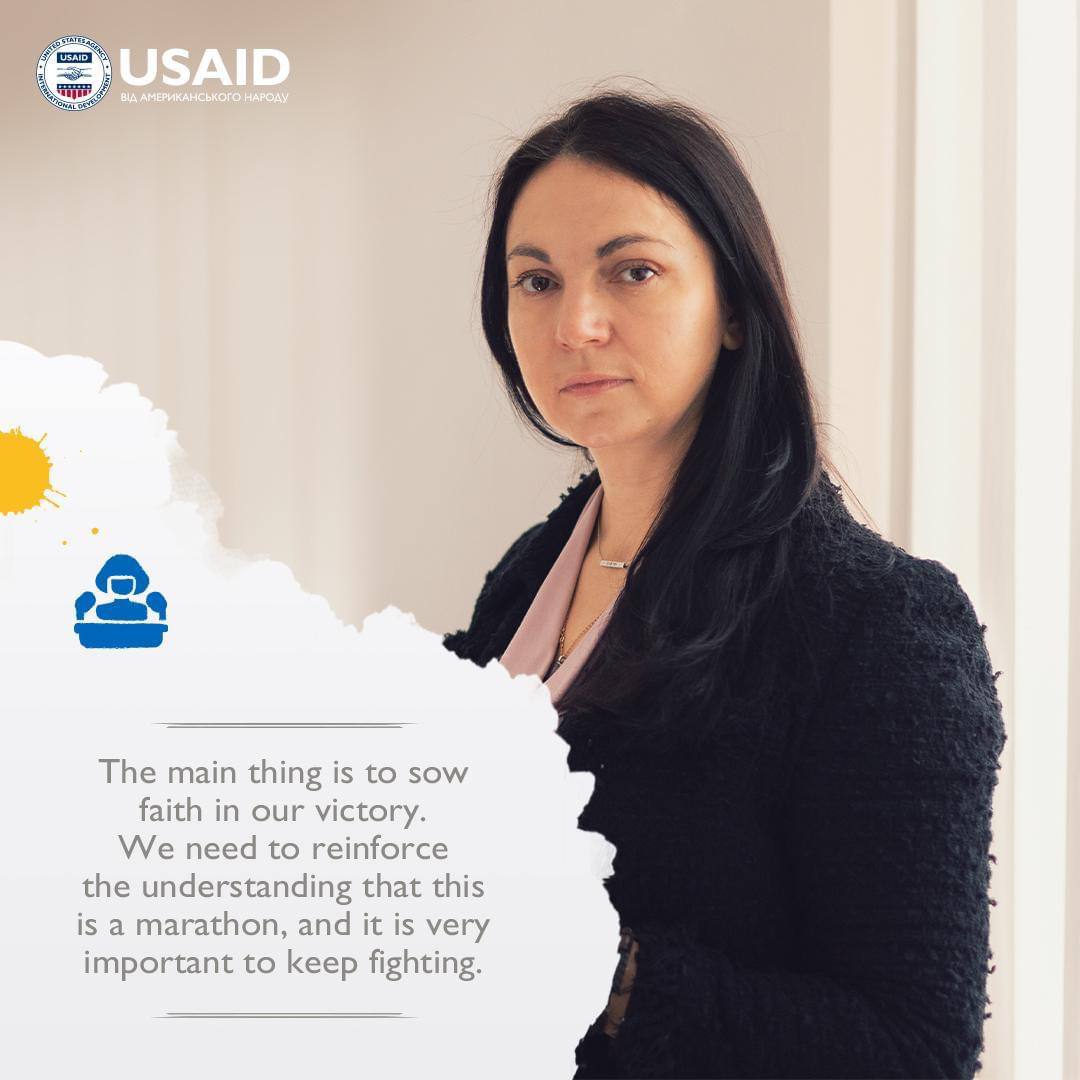 The leader of the National Interests Advocacy Network "ANTS" became the heroine of the USAID Ukraine campaign "New Pages of Ukrainian Heroism" about women who are making history with their contribution to the protection and reconstruction of Ukraine on the front line.
Since the beginning of the full-scale invasion, Hanna has coordinated her efforts at the work of two civil society organizations: the National Interests Advocacy Network "ANTS" and the International Center for Ukrainian Victory. Both of these organizations help communities recover and rebuild after the horror of the occupation, support the Armed Forces of Ukraine, and help Ukraine establish and strengthen ties with international partners.
At the international level, Hanna and her colleagues protect Ukrainian interests in the broadest sense: they ask the international community to equip the Armed Forces of Ukraine with the necessary equipment to defend their territory, lobby for increased sanctions against russia, insist on the creation of a tribunal to hold russia accountable for its crimes, engage in humanitarian aid and planning for the recovery of Ukraine.
"The main thing is to sow faith in our victory. It is necessary to consolidate the understanding that this is a marathon, and it is very important to fight. And this is possible when we stand side by side," says Hanna.
The head of the ANTS has dedicated her life to working for her country, but the full-scale invasion of Russia forced her to increase her efforts. Since the beginning of the war, Hanna has been constantly on advocacy trips, speaking in defense of Ukraine's interests, in particular in the USA, Canada, Taiwan, South Korea, Japan, Sweden, France and Great Britain. Thanks to her efforts, Ukrainians received generators, warm clothes and food products.
Hanna is grateful to all partners of Ukraine for their support, but she especially talks about the USA.
"The key role of the United States is how it mobilizes all Western partners to ensure the victory of Ukraine. And we would not be able to solve humanitarian problems without the help of such organizations as USAID."
Hanna is sure that all Ukrainians have a role to play in this war.
"Women are taking a responsible role on the way to victory. Military women, volunteers, and doctors are on the front line. In the rear are public figures who represent Ukraine in the international arena and protect our interests. It is necessary to work hard to build a country with the rule of law, implemented reforms and strong institutions."