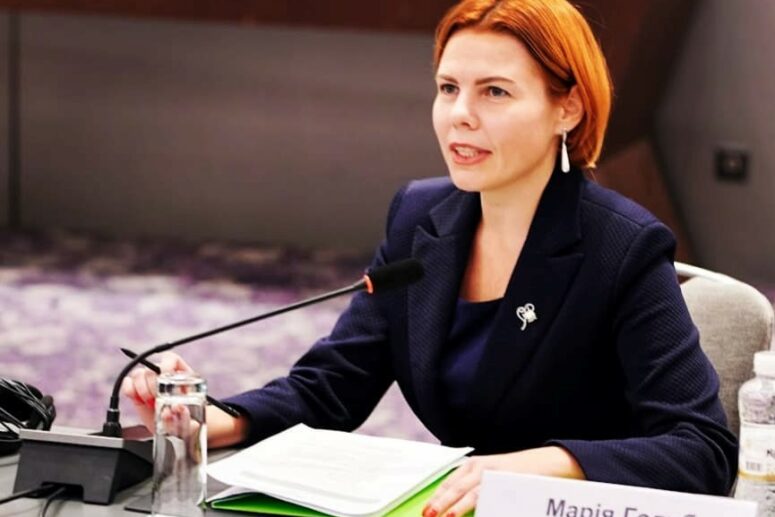 The disruption of the grain agreement by russia, the energy crisis – the terrorist country employs all possible scenarios to intimidate and manipulate.
The russian federation's withdrawal from the grain agreement does not mean the end of the agreements.
"Turkey's President Erdoan put putin on the spot with the grain corridor, as evidenced by the way they found a way out of the "grain crisis." Currently, ships carrying Ukrainian grain are leaving our ports, and experts are continuing their inspection. russia's unilateral withdrawal does not mean the end of this agreement. It is correct. In general, because this agreement lacks full international force, it gave Erdogan a large role and room for maneuver, which he took advantage of and, by the way, did correctly," says – Maria Golub an expert on European integration and bilateral relations with the EU of the National Interests Advocacy Network "ANTS".
She predicted that this situation would occur sooner or later.
"russia was looking for any excuse to derail this agreement. This is one of the components of her famine and cold famine tactics against Ukraine. As a result, they were looking for ways to halt the export of Ukrainian grain, because it is wreaking havoc on our economy, she says. The future of this agreement is dependent on Turkey's position, first as a regional player, and then on the position of the UN, because their representatives did play a role, albeit not entirely positive".
Maria Golub emphasizes that the current situation provides an opportunity for Ukraine to once again emphasize that russia is a terrorist country that does not recognize any obligations, even if they were voluntarily assumed.
"As a result, we must continue to request increased military assistance to ensure the safety of ships sailing in this area. There was talk of increasing the military presence in this zone, including from NATO. This idea was expressed by colleagues from Estonia; however, it is currently not possible or appropriate; therefore, Turkey should play a larger role here, providing all security guarantees for the agreement's operation".
russia caused the agreement to be broken because, among other things, it wants to sell grain, including grain illegally exported from Ukraine.
"I believe that EU countries should include the clause "verification of origin" in order to conduct checks – and there will be no room for maneuver here. russia takes advantage of every opportunity to manipulate. They talk about security guarantees, but the best options for providing security guarantees for any similar trade relations are the complete absence of the russian federation's Black Sea Fleet in Black Sea waters,"- ANTS member said.
The Ukrainian side proposed excluding russia not only from the G20, but from all international organizations in general.
"We need to set the tone here. But now it is more important to concentrate efforts on the European Parliament adopting a resolution recognizing russia as a state sponsor of terrorism. Despite the fact that this is a political signal, it unlocks many other processes, for example, the creation of an international tribunal, the acceleration of work on the development of a directive so that "frozen" russian assets can be confiscated and transferred to the reconstruction of Ukraine. These are all political signals that have a certain cumulative effect, but it is necessary to understand: it takes a certain amount of time to bring the matter to an end".
Individual countries and political leaders should play a clear leadership role in this, as this is a critical task.
"Actually, such global leadership in Ukraine matters is currently lacking. This must be acknowledged, and efforts on all fronts must be stepped up as much as possible. We have excellent partners and friends in the Baltic countries and Poland, but this is insufficient. We need "political heavyweights" who will systematically push the Ukrainian issue in the midst of structures like the UN, the EU, and even President Biden's administration," – Maria Golub says.
As for Iran's actions, there should be a swift and tough response as possible.
"If Iran is allowed to supply weapons, the proposed sanctions package is insufficient. There must be a clear resolution that does not allow for multiple interpretations. Diplomacy is out of the question here. Trade relations with Iran should be completely blocked. Ukraine has already said as much as it could. It is necessary to set a precedent and demonstrate that countries that facilitate terrorists will face severe consequences. This process is currently dependent on the political leadership of the United States and other key players in the region," – the expert emphasized this point.
Meanwhile, russia is trying to destroy the Ukrainian energy infrastructure. And the best answer to this challenge should be to increase the supply of air defense systems to Ukraine in order to provide security guarantees for all critically important energy facilities.
"Of course, it is very good that the EU will export electricity to Ukraine as part of a joint solution and the EU's response to the energy crisis, when russia continues to systematically destroy Ukraine's energy infrastructure; it is also good that Kadri Simson, the European Commissioner for Energy Affairs, is visiting Ukraine this week; and another plus is that we were able to synchronize our power grids with the EU in time. However, we haven't put the combined power grid through enough testing. Furthermore, it remains vulnerable to active hostilities from the russian federation. The best way to respond to this challenge is to increase the supply of air defense systems to Ukraine, so that we can provide security guarantees for all critical energy facilities".
In addition, huge amounts of equipment are needed to repair and restore the destroyed infrastructure, primarily energy.
"Ukraine requires a large number of mobile heating points as well. The EU is currently dealing with this issue. And it should be done as quickly as possible. All assistance must be provided in the appropriate amount. It is also necessary to finally begin weapon production. This is a watershed moment in Ukrainian victory history. We're not there yet, but we're getting there. Countries that can ramp up production of the weapons we require should begin this process. This immediately answers a number of questions. Those countries that are hesitant to provide Ukraine with air defense systems and heavy weapons will be told that production will begin and they will be able to quickly "replace" what they gave Ukraine. Furthermore, countries that begin production will be able to deliver the necessary weapons to Ukraine in much larger quantities. Because, while it's great news that we'll be getting more weapons, we need them in large enough quantities to ensure Ukraine's victory as soon as possible".