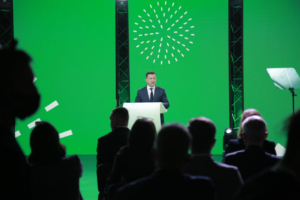 The conference featured 80 speakers from 40 countries, 1,000 registered participants, and more than 100 media representatives covering the event online.
Presidents and Prime Ministers, representatives of the European Commission and the European Parliament, NATO, the Pentagon, the FBI, the Ministry of Justice, and the US Senate, well-known public figures from various continents, and investigative journalists.
Among the speakers of the highest level:
Volodymyr Zelenskyy – President of Ukraine
Maia Sandu – President of Moldova

Krišjānis Kariņš – Prime Minister of Latvia

Věra Jourová – Vice President of the European Commission
Mircea Geoană– Deputy secretary general of NATO
Samantha Jane Power – Administrator of the United States Agency for International Development(USAID)
Chris Coons, Bill Keating, Brian Fitzpatrick – Congressmens
Jeanne Shaheen, Robert Portman and Christopher Murphy – US Senators
Katarína Mathernová – Deputy Director-General for Neighborhood and Enlargement Negotiations of the European Commission
Andrius Kubilius – Member of the European Parliament
Artem Sytnyk – Director of the National Anticorruption Bureau of Ukraine
Olha Stefanishyna– Deputy prime minister for European and Euro-Atlantic integration.
The forum was held with the support of international organizations, in particular the Program for the Promotion of Public Activity "Join!" (USAID/ENGAGE), funded by the United States Agency for International Development (USAID) and implemented by Pact in Ukraine; USAID "New Justice" programs; EUAM; WNISEF; NED; Anti-corruption initiative of the European Union in Ukraine (EUACI), which is co-financed and implemented by the Ministry of Foreign Affairs of Denmark and other partner organizations.