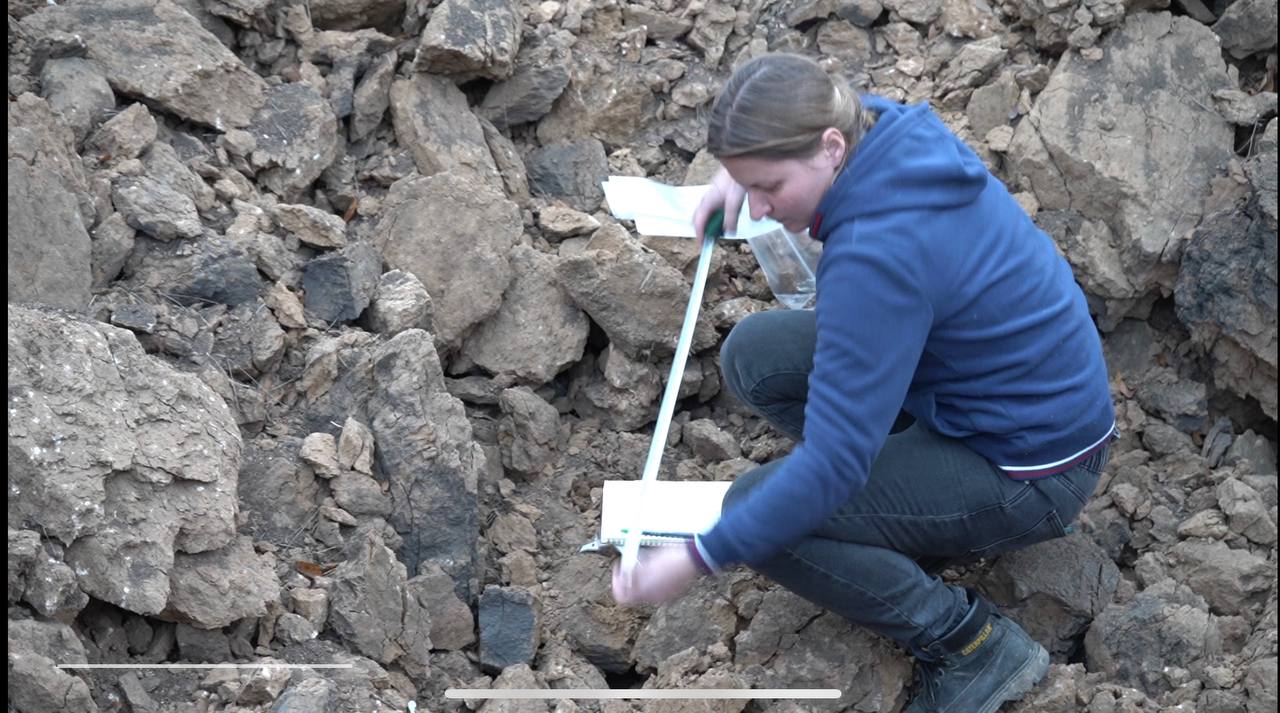 Environmentalists traveled to Mykolaiv Oblast to document the occupiers' crimes in preparation for a lawsuit at the International Court of Justice. Specialists from the international charity organization "Environment-People-Law" are currently investigating russian crime scenes, taking soil samples and documenting everything on photos and videos.
Thus, on November 11, ecologist Kateryna Polyanska of the International Charity Organization "Environment-People-Law" examined the locations where enemy rockets struck the territory of the village of Vysunsk, Bashtansky district of the Mykolaiv Oblast.
On June 26, Kh-101 rockets landed in the yard of a nearby school, leaving two large craters that were partially covered with soil. Traces of the rupture of two 9N210 cluster shells, fragments of the hull, and stabilizer blades were discovered nearby. The specialist collected soil samples and rocket debris for laboratory analysis. Previous research in other Ukrainian territories found that the maximum permissible concentrations of heavy metals were exceeded in the eruptions caused by rocket attacks. More detailed studies and consultations with soil scientists and farmers are required to address the possibility of these elements migrating into the aquatic environment and vegetation, which could endanger human health.
"It is too early to discuss damage assessment at this time. There is only one crime: war, or more specifically, violation of the Vienna Convention on the Conduct of War. The rest are the ramifications of the main crime. The precedent of Kuwait, a victim country of Iraq's military invasion, demonstrates that proving the facts of environmental damage as a result of war is extremely difficult due to insufficient data collection. As a result, it is now critical to gather as many facts – evidence of this crime – as possible," says Olena Sas, project manager of the DRL project "Together to ecological democracy and the rule of law in Ukraine," and member of the National Interests Advocacy Network "ANTS"".
Environmental crimes are classified as war crimes. "It is prohibited to use methods or means of warfare that are intended to cause or can be expected to cause widespread, long-term, and serious damage to the natural environment," according to the Geneva Convention. To prosecute the aggressor for environmental crimes, the facts of ecocide must be carefully and correctly recorded.
"In order to document the facts of a crime, you must first conduct a technical assessment, such as collecting soil samples and examining them in a laboratory. Then an economic assessment is performed, in which specialists calculate the amount of damage that must be repaired. The third and final stage is a legal evaluation, which is already based on the first two. Of course, all of this should be done by specialists who have the necessary licenses. However, journalists, community representatives, and others should be aware of how and what to do to record crimes. We will have a special training course for journalists, media representatives, and local self-government bodies as part of the DRL project, during which experts will explain how to correctly assess environmental damage. The real reason for the ecologists' trip to Mykolaiv Oblast was to collect soil samples from areas where enemy rockets and shells landed and send them to a laboratory for analysis. This is not the first trip of its kind, and there will be more in the future," says the member of the National Interests Advocacy Network "ANTS".
According to the most recent conservative estimates, the war's environmental damage in Ukraine totals 1.35 trillion hryvnias.
As a result of the russian attack, 20% of Ukraine's nature conservation areas, totaling approximately one million hectares, were damaged. 2.9 million hectares of the Emerald network are threatened, requiring European-level protection. 16 Ramsar sites totaling nearly 600,000 hectares are under threat of destruction. Currently, eight nature reserves and ten national natural parks are occupied. In Ukraine, the war destroyed approximately 3 million hectares of forest. A total of 23,300 hectares of forest were destroyed.
More than 680,600 tons of petroleum products were burned as a result of russian strikes on oil depots, fuel and lubricant warehouses, polluting the air with dangerous substances. Furthermore, over 38,000 tons of emissions from the burning of russian equipment entered the air, and over 352,000 tons of waste were produced, polluting not only the air but also the earth.
Mined areas are another issue. Demining currently requires approximately 200,000 square kilometers.
As a reminder, the Ukrainian Ministry of Justice must finalize an international reparations agreement and create a register of damages caused by russian aggression by 2023.