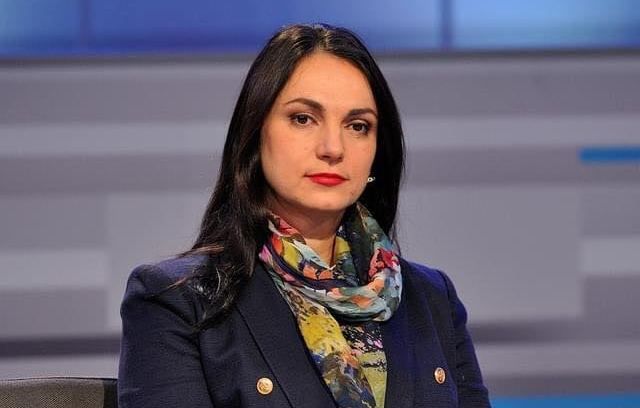 During her speech, she talked about securing Ukraine's course in the EU and NATO, holding the russian federation accountable, ensuring reparations payments by russia, and rebuilding Ukraine.
Head of the National Interest Advocacy Network "ANTS" Hanna Hopko took part in the "Forum Ukraine: Building Resilience for the Future" organized by the Swedish Civil Contingencies Agency (MSB) and the Swedish Institute of International Affairs. During her speech, she emphasized the importance of creating a strategy for Ukraine's victory, confiscating russian assets, holding the russian federation accountable, and ensuring that russia pays reparations.
Main theses from the speech:
It is important that the event has a clear strategy for the victory of Ukraine! This is really important because the ends determine the means. This Monday, in fact, I spent the whole night in a shelter due to a massive bombardment, and then in the morning, together with the team, I went to meet with people living in the south of Ukraine. They say: "the russians are constantly attacking us. Why are the Ukrainian Armed Forces not responding?" and it was difficult to answer. Unfortunately, there is a shortage of ammunition, and we must also prepare for a counterattack
A consolidated position, transatlantic unity, which means victory. Because 95% of Ukrainians understand what victory means to us. And if I hear: "maybe you should forget about Crimea." I will explain – we do not separate one third of Ukraine from the other because we are talking about people who suffer every hour from atrocities and torture in the occupied territories. Therefore, the liberation of all Ukrainian territories is a key priority for us, and we cannot bargain here.
Together with our partners, we developed the Manifesto for Sustainable Peace. Its two main parts are: responsibility for war and ensuring sustainable peace. Now I am sincerely grateful to the US Congress for this bipartisan initiative, when on April 26 the victorious resolution regarding Ukraine was registered. In this resolution, they have a very clear position on US policy on how Ukraine will restore its internationally recognized 1991 borders. It is also mentioned that russia will pay reparations to Ukraine. Justice must be justice.
In addition to the course towards Ukraine's membership in the EU and NATO, there is also the issue of decolonization of russia and the overcoming and overthrow of russian totalitarianism. Our strategies must finally be in the White House National Security Council, in the European Commission, in Great Britain and Canada, and then we can see a common strategy for victory. And then we will not ask for weapons, we will not think about delay. We will not ask to close the sky, and we will not pray that it will not be too late with other cities, as with Bucha and Mariupol.
russia has destroyed or damaged more than 40% of our electricity and energy infrastructure. Therefore, it is necessary to think about the next winter period already today. Today we cannot get all the big transformers because they are not easy to produce. Therefore, the next winter will be even more difficult.
Sanctions are good. It's great that we have 10 packs in the EU. But did the 10th package of sanctions stop russia's aggressive behavior? Is this bringing us closer to the collapse of the russian economy? What will be the next steps? The problem also lies in the imperialist nature of russian society, which supports the war… russian society is silent. They are not protesting genocide. You have heard some conversations where russian soldiers tell how they rape Ukrainian women, how they kill children and it is normal for them. That is why I believe that, in addition to regime change, it is also important to think about russian society and the de-imperialization of russian society. I have a dream: to have two memorials on red square in moscow, one for the genocide committed by stalin, the other for the genocide committed against Ukraine during the current russian regime.
It is worth noting that during her speech, Hanna Hopko thanked Sweden on behalf of Ukrainian civil society and the Ukrainian people for their support of Ukraine.